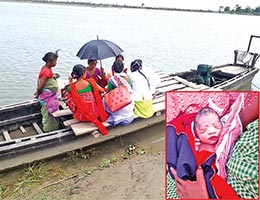 By the Brahmaputra: Volume 50
C-NES Newsletter
(For the quarter April- June 2020)
Delivery on a country boat
21st April, 2020, started early, like any normal day for the C-NES Boat Clinic health teams. The Dhemaji Boat Clinic team in Upper Assam, bordering Arunachal Pradesh, was prepared for another long day ahead. Times were uncertain and challenging.
As the Dhemaji team proceeded to conduct a health camp at Pakhoriguri sapori (island village) they are stopped by a few villagers. "An emergency" they said. A pregnant 19 year old Silaboti Boro from Udaypur village of Mechaki sapori, was being brought by her parents in a country boat to the nearest mainland hospital as roads were closed due to the nationwide lockdown. Her husband was far away in Chennai. Silaboti started labour in the boat itself and the family was not being able to contact the 108 ambulance service despite frantically trying to. The very sight of the "Doctor's Boat" from afar was godsend. It was noon. The young Medical Officer, Dr Modhusmita Hazarika and ANM Mohima Boro had no time to lose. They had to make a quick decision. There was no way they could take her to the nearest health centre. It would be too late. It had to be here, now. On the country boat. The surface was cleaned, necessary hygienic precautions taken. Gloves were put on and the duo swung into action. Exactly 26 minutes later, at 12.26 pm, a healthy baby boy weighing 3 kg was born much to the delight of the family. A baby born on a country boat. The mother and infant was referred to the nearest health centre (MPHC) at Ramdhan for further check ups. The baby is named Somol Boro, the team was informed later. This was not the first instance when a boat clinic responded to a call of distress on a remote island.
---
Boat Clinics fight Covid 19
As the country grapples with the challenge of curbing the spread of the novel coronavirus disease, C-NES' 15 Boat Clinics, supported by NHM, Government of Assam, have stepped up their efforts in the far-flung Brahmaputra river islands most of which lack access to basic health facilities.
The Clinics, each with a 15-member staff, provide immunisation to children, pregnant women and new mothers as well as treat vulnerable adult groups and generate awareness on family planning. They carry out general check-ups for malaria and other vector-borne diseases and early detection of communicable diseases like HIV and tuberculosis as well as non-communicable diseases like diabetes and cataract.
World over the frontline workers have been regarded as warriors battling the war against the virus. The frontline health workers from the 15 Boat Clinic units have been working with dedication and commitment in the fight to prevent COVID-19 in the river islands in these crucial times and completing the duty entrusted by the district health administration. As frontline warriors they have been conducting regular awareness sessions and reminding communities to maintain physical distance, follow hand washing practice and to wear homemade face mask at all times. The Clinics are in forefront of providing relief to island dwellers amid lockdown apart from providing preliminary check-ups. The Boat Clinic units in coordination with the District Health Society (DHS) of their respective districts conducted 744 Awareness Sessions till 30th April'20 in their targeted villages ensuring physical/social distancing is maintained by all. In order to penetrate more and spread the message most Boat Clinic units divided themselves into 2 to 3 teams and reached out to people and homes in the most interior island villages. Villagers were informed about importance of maintaining social distancing, regular and proper hand washing, need of wearing mask, first signs/symptoms when health assistance should be sought, what coronavirus is all about and how it can spread. Communities were also made to understand that in order to break the chain or contain the infection from spreading, all responsible citizens should remain inside their homes (especially vulnerable groups like PW, Children below 10 years and the elderly people above 65 years) for the number of days announced by the government.
The workers are also acting as a bridge to help the people get necessary government procured food items. Most of the island-dwellers across lower Assam are daily-wage workers whose income has completely stopped because of the lockdown.
All the units in the initial period (March) apart from the awareness sessions were mainly engaged in visiting villages and identifying persons with travel history with information/help from ASHA and local leaders. The identified persons were put under home quarantine after proper counselling and awareness to the person and all members of his/her family. The ASHA and AWW workers and village headman were made responsible to closely monitor and to inform of any changes in health condition immediately. As many as 517 person was put under home quarantine and closely monitored with 845 follow up visits by Boat Clinic team within this period. 78 persons were accommodated in different Institutional Quarantine Center from Boat Clinic areas. Examples cited below:
---
Bongaigaon 8th April 2020
Today 13 young men with recent travel history have been identified in different river island villages under Srijangram and Boitamari under Boat Clinic operating area. Most of these island dwellers move out of their homes during non farming months to work as daily wagers in other districts and towns. These men have just returned from Ledo in upper Assam's Tinsukia district and some from Nepal. They were all given a check up and home quarantined for 2 weeks.They have no COVID-19 symptom, but asked to maintain social distancing. The villagers were asked not to get influenced by (social media) rumour and to remain vigilant. The district DMO and BPM Boitamari supported the Boat Clinic team and were present the whole day.
---
Bongaigaon 9th April 2020
Thanks to the Circle Officer (CO) Tapattari division for a quick response in supplying grocery items for those presently under home quarantine in the Boat Clinic serviced island villages. While the C-NES health team visited the villages they found that many families have no essential foodstuff the past couple of days. Most depend on their daily wage income which has stopped due to the lockdown. They expressed their concern to the health team as to how they would survive the 14 day quarantine. Accordingly the DPO Boat Clinic Bongaigaon shared related information with the CO and submitted the list of persons under quarantine and was assured by him that they would all be supplied all essential food items including mustard oil, rice and dal among others.
---
With the gradual rise in Assam's COVID 19 numbers, the health workers all over the state including the Boat Clinic workers have been actively screening people at the community level as part of community surveillance.The Boat Clinic teams have been visiting all river island villages under them and collecting sample from those exhibiting any influenza like symptoms and respiratory issues to detect any possible community transmission.
---
Shyamjit Pashi, DPO, Morigaon, who is responsible for monitoring a population of 18,000 in 28 island villages, said their team started informing people about the guidelines and advisory about COVID-19 before the state-wide lockdown was announced in Assam. "After May 3, we have also started community surveillance as directed by the government. Our team is visiting every household and we are trying to find out people who have a fever or have recent travel history. We are then screening such people with thermal body scanners. If we find a person whose body temperature is more than 38 degree Celsius, our medical officer decides on collecting the swab of the patient and sending it for testing."
Terming the people in the villages to be very co-operative so far, Pashi said, "They have understood why social distancing is required. 35 people from these saporis who work outside Assam returned home before lockdown. So, we ensured that they are quarantined at their home."
While the boat clinic teams have been supplied with adequate masks, gloves, aprons, and hand sanitisers, the team members are finding it difficult to maintain social distancing among themselves.
Riturekha Baruah, DPO of the Jorhat boat clinic said: "While the boats are big, they are not big enough for the entire team to maintain social distancing. So, we have started working on a rotation basis and only 50 percent of the staff are present on the boat at a time."
Khogeswar Pegu, village headman of Kerkeri village in Majuli district says that these mobile clinics have been a huge source of relief for the people of these islands. Majuli is the world's largest river island and is a district as well.
---
Self quarantine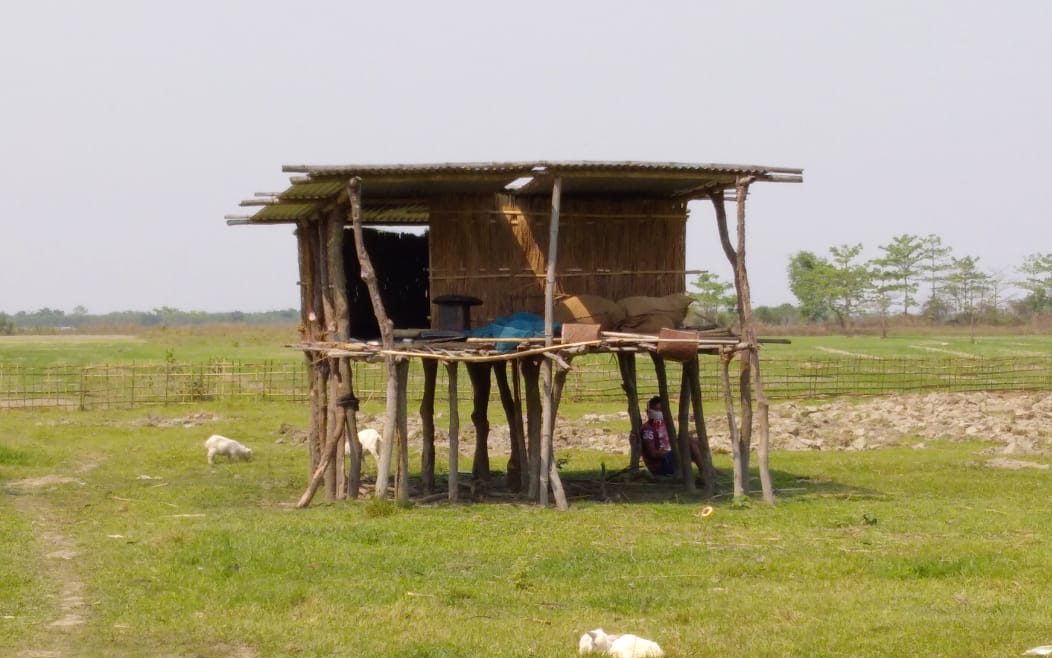 Many island dwellers in upper Assam who returned back home from other states have set a unique example of self awareness by quarantining themselves outside the village. They have built bamboo chang ghars (homes on stilts) and sheds made of mats and other natural materials. They have not tested positive but do not want to put in danger the lives of their families and neighbors. In some of these remote island villages several who do not even have travel history have also been living in self isolation away from therir villages displaying immense self discipline and social awareness.
From the month of May 2020, 12 Boat Clinic units in 10 districts are engaged in Community Surveillance Program of the State Government and 58,302 persons have been screened for ILI/SARI till 31st May 2020 of which only 18 were detected of having ILI/SARI symptoms. In some districts Boat Clinic units were not included/ provided orientation or training to deal with the pandemic and in some districts sufficient protective kits were not supplied which was a concern.
Orientation on COVID-19 for ASHA workers by Boat Clinic teams
In Lakhimpur district the Boat Clinic unit staff (Doctors, Nurse, Pharmacist, Laboratory Technician, three Community workers and the District Program Officer) were engaged in the Quarantine Center at Lakhimpur Town from 2nd April till 19th April on shift duty basis. Both the Medical Officers are continuing to work for Quarantine Center (5 Hotels) and in the Railway station for people returning to the districts from other states. In Tinsukia the District Program Officer Boat Clinic was engaged by JDHS to assist in COVID-19 duty. In Bongaigaon the health team has been given the responsibility presently (May end) to monitor the health status of quarantined persons accommodated in 7 schools in different villages and the Laboratory Technician is engaged to collect swab from people travelling back from other states by train at the Railways station booth.
Maintaining physical/social distancing at health camps
Most of the people that the boat clinics serve are fully dependent on agriculture and daily wage and many work as migrant workers in the towns and cities of the state and other states of the country. The lockdown for the island communities was very difficult to understand and follow and with persistent awareness and counselling by the Boat Clinic team and with support of advertisement by the government on electronic and print media including announcements on loudspeakers and meetings with community leaders, people gradually understood the need to follow the safety measures of social distancing and lockdown. In most villages people blocked the roads making it impossible for even the Boat Clinic teams to reach the river banks/ghat. Though it was a positive preventive measure but for health teams it became a barrier in providing the services intended during the crucial period of the pandemic.
Awareness on Importance of Hand washing
Identification and stamping of people for home quarantine and providing awareness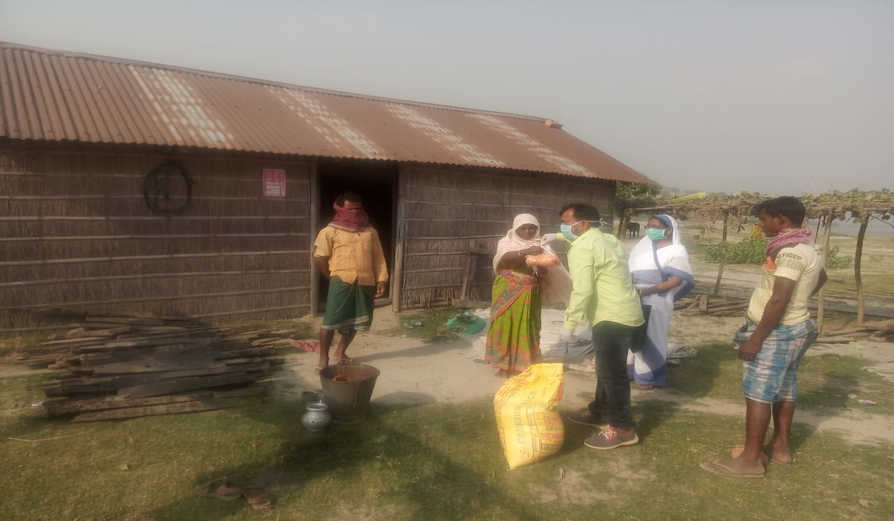 In the initial period stigmatization of the virus and frontline workers due to illiteracy and fake news being spread within the communities was high which caused a hindrance in approaching villagers.
Follow-up visits of home quarantined persons
Challenging conditions to reach and serve the communities
The Char/Sapori communities have been greatly affected in the lockdown as for many families their agricultural produce were wasted in the field itself. During this period there was no support from the concerned department to provide proper transportation and cold storage arrangements or market linkages. For many the financial loss is huge as there were loans from micro finance institutions and banks. Though all these hardship were present, the communities were fully cooperative and acted with responsibility in following the instructions and guidelines of the state government to contain the spread of COVID-19.
Assam Community Survillance Program (ACSP)
---
Film Makers visit Kamrup Boat Clinic
Noted filmakers Vinta Nanda and Priti Chandriani from Mumbai joined the Kamrup Boat Clinic team on 11th March 2020 just before the pandemic hit the country . They are making a documentary film on Gender and travelling around key places in India to interview thought leaders for it.
Communications Officer Bhaswati Goswami spoke about the clinics and the service provided from a gender perspective. The health team members also spoke to the film makers about their experiences while providing service and the challenges they face. This particular Boat Clinic, SB Kaliyani has been donated to C-NES by NRL as part of CSR funding.
Media Coverage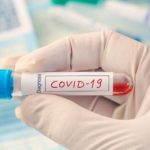 The Telegraph: Voice of the people combats coronavirus fear
Community Radio Station Had Started A 2-hour Live Programme On Covid-19 Awareness Everyday Before Lockdown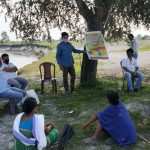 EastMojo: C-NES boat clinics fight COVID-19 in island dwellings of Assam
C-NES boat clinics fight COVID-19 in island dwellings of Assam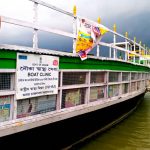 ETV Bharat: চৰ অঞ্চলত কৰ'ণাক কেনেকৈ প্ৰতিহত কৰিছে নৌকা স্বাস্থ্য সেৱাই
বহি: ৰাজ্যৰ পৰা অহা শ্ৰমজীৱি লোকসকলৰ চোৱা চিতা কৰা,কোৱাৰেন্টাইনকে ধৰি বিভিন্ন দিশত সেৱা আগবঢ়াই আহিছে ৷ ২২ খন চৰৰ ৪৪ জন লোকক হোম কোৱাৰেন্টাইন কৰা পৰা স্বাস্থ্য পৰীক্ষা লৈকে সকলো কৰিছে নৌকা স্বাস্থ্য সেৱাই ৷ জিলাখনৰ মাজেৰে বৈ যোৱা বৰলুইতৰ বুকুত থকা ২২ টা চৰৰ প্ৰায় ২০ হেজাৰো অধিক লোকৰ ভৰষা এই নৌকা সেৱা ৷ বঙাইগাঁও জিলাৰ এই নৌকা স্বাস্থ্য সেৱাৰ সৈতে ১৩ জনীয়া দল এটা সদায় সষ্টম থাকে ।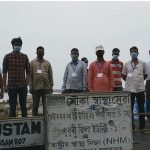 ETV Bharat: ধুবুৰীত কৰ'ণাৰ বিৰুদ্ধে নৌকা স্বাস্থ্য সেৱাই লৈছে গুৰুত্বপূৰ্ণ পদক্ষেপ
অত্যন্ত ভিতৰুৱা অঞ্চলসমূহৰ চিকিৎসা ব্যৱস্থাৰ বুজ ল'বলৈ আমাৰ সাংবাদিক গৈ উপস্থিত হৈছিল ধুবুৰীৰ কেইবাখনো প্ৰত্যন্ত অঞ্চলত ৷ খনকৈ নৌকা স্বাস্থ্য সেৱাৰ যন্ত্ৰ চলিত নাৱেৰে ধুবুৰীৰৰ বৃহত্তৰ চৰ চাপৰি আৰু নৈপৰীয়া অঞ্চলসমূহত চিকিৎসা সেৱা প্ৰদান কৰি আহিছে ৷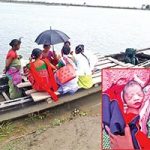 Assam Tribune; Baby born on a country boat
GUWAHATI, April 24 - April 21, 2020 started like any normal day for the C-NES Boat Clinic health teams.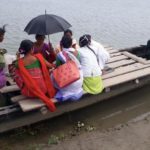 India Today: Woman delivers baby on boat in Assam's Dhemaji amid Covid-19 lockdown
On social media, the National Health Mission, Assam shared how the 19-year-old pregnant woman from Udaypur Mechaki Sapori area delivered a baby on a boat.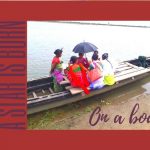 The Daily Eye: A star is born on a boat during COVID-19 lockdown
As the Dhemaji medical team proceeded to conduct a health camp at Pa...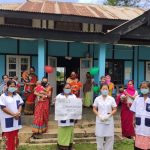 WHO: Children administered life-saving vaccines during routine immunization in Assam and Tripura
The rapid spread of COVID-19 across the globe has confined a vast majority of humanity indoors. Health infrastructure is stretched and health workforce repurposed to deal with the pandemic. Amidst these challenges, sustaining essential health services such as routine immunization is crucial to ensur…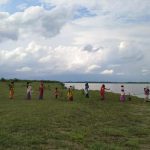 MongaBay: Assam's boat clinics scan remote islands for COVID-19
Boat clinics in Assam have become the primary access to healthcare for the three million inhabitants of the 2500 river islands.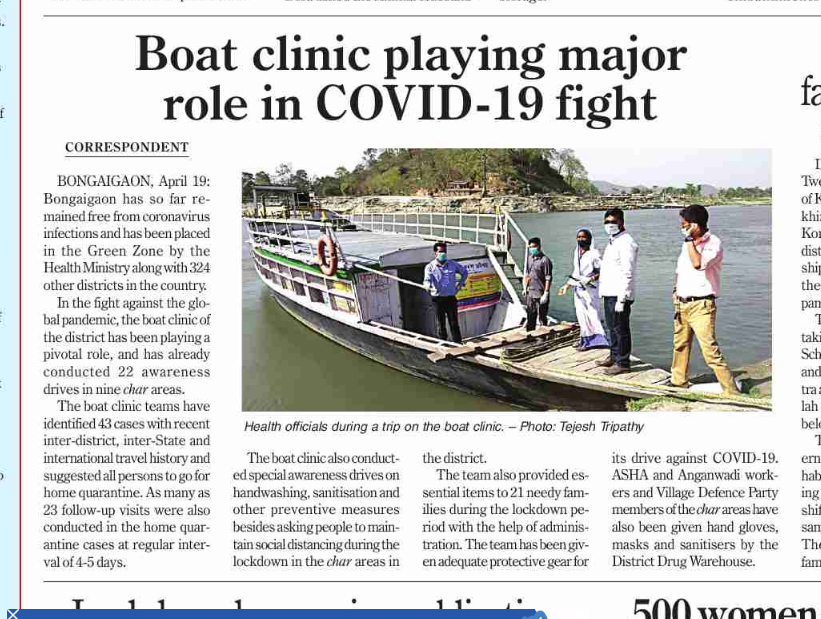 ---
Please send your feedback & questions to Bhaswati Goswami, Communication officer, CNES – bhaswatigoswami@yahoo.co.in