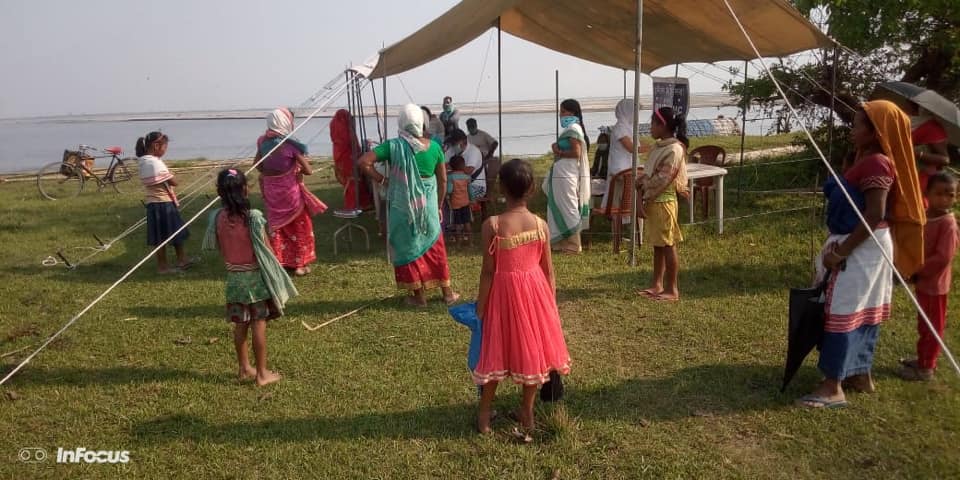 C-NES boat clinics fight COVID-19 in island dwellings of Assam
Guwahati: Health workers of the Centre for North East Studies and Policy Research (C-NES) of all the 15 boat clinics across Assam have been issuing a three-pronged attack against COVID-19 to all the river island dwellers of the state.
Apart from providing preliminary check-ups, they are also spreading awareness over COVID-19. The workers are also acting as a bridge to help the people get the necessary food items in an otherwise 'handicapped' society.
Most of the island-dwellers across Assam are daily-wage workers whose income has completely stopped because of the lockdown. On April 8, 13 youths with recent travel history were identified in the different river villages under Srijangram and Boitamari of boat clinic operating areas in Bongaigaon district. The vast majority of these island dwellers move out of their homes during non-cultivation months to work as daily wagers in other districts and towns.
The men who just returned from Ledo in upper Assam's Tinsukia district and some from Nepal were given a check-up and were asked to be home quarantined for two weeks. Although they did not show any COVID-19 symptoms, they were asked to maintain social distancing. The villagers were also asked not to get influenced by (social media) rumours and to remain vigilant.
When a C-NES health team visited them, they were shocked to see that many of the families did not even have the essential and basic food commodities. However, on April 9, due to a quick response by the circle officer of Tapattari division, they were able to supply some grocery items, which included rice, pulses and oil, among others.
The C-NES is also providing various information to these secluded island regions including various tea gardens via the community radio station, Radio Brahmaputra. In times of crisis, a simple rumour is all that is required to create pandemonium.
The centre has been disseminating reliable and verified information to its nearly 200,000 listeners daily in five languages for 10 hours.
https://www.eastmojo.com/ourcoronafighters/2020/04/11/c-nes-boat-clinics-fight-covid-19-in-island-dwellings-of-assam