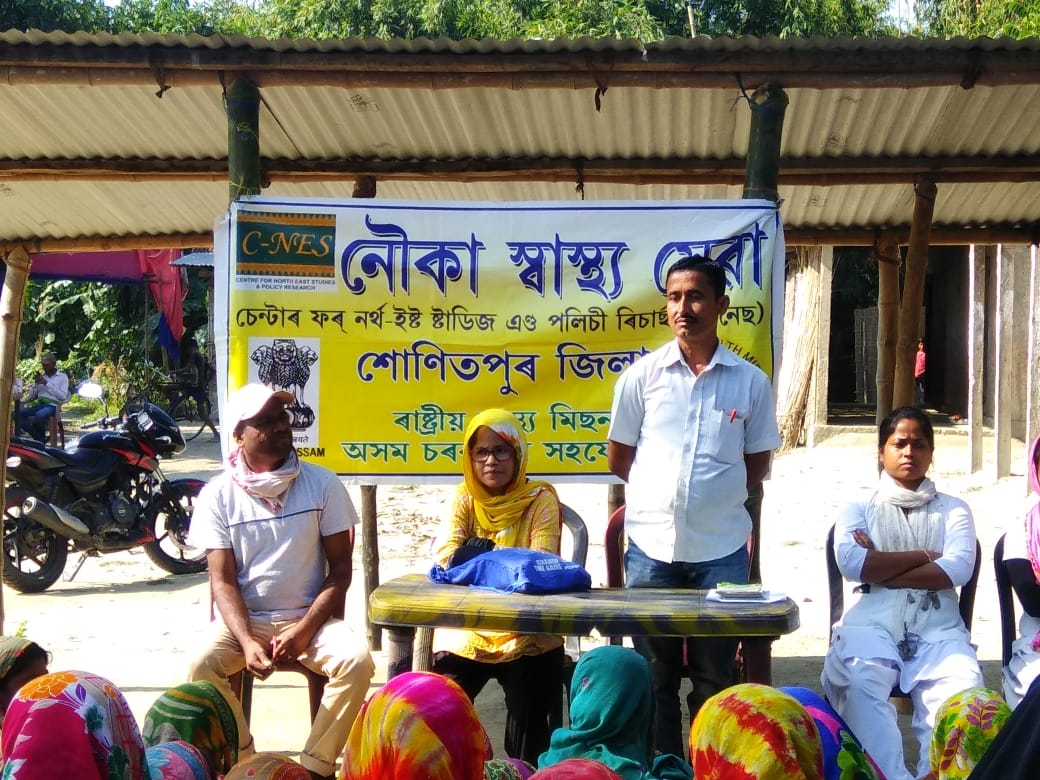 By the Brahmaputra:Vol 48
By the Brahmaputra (Vol: 48)
C-NES Newsletter
(For the Quarter October – December 2019)
From The Field
Awareness on IDD by Boat Clinic Units:
Iodine deficiency disorders (IDD) constitute the single largest cause of preventable brain damage worldwide. Majority of consequences of IDD are invisible and irreversible but at the same time these are preventable. In India, the entire population is prone to IDD due to deficiency of iodine in the soil of the subcontinent and consequently the food derived from it. To combat the risk of IDD, salt is fortified with iodine. However, an estimated 350 million people do not consume adequately iodized salt and, therefore, are at risk for IDD. Follows a report from the Boat Clinic Units: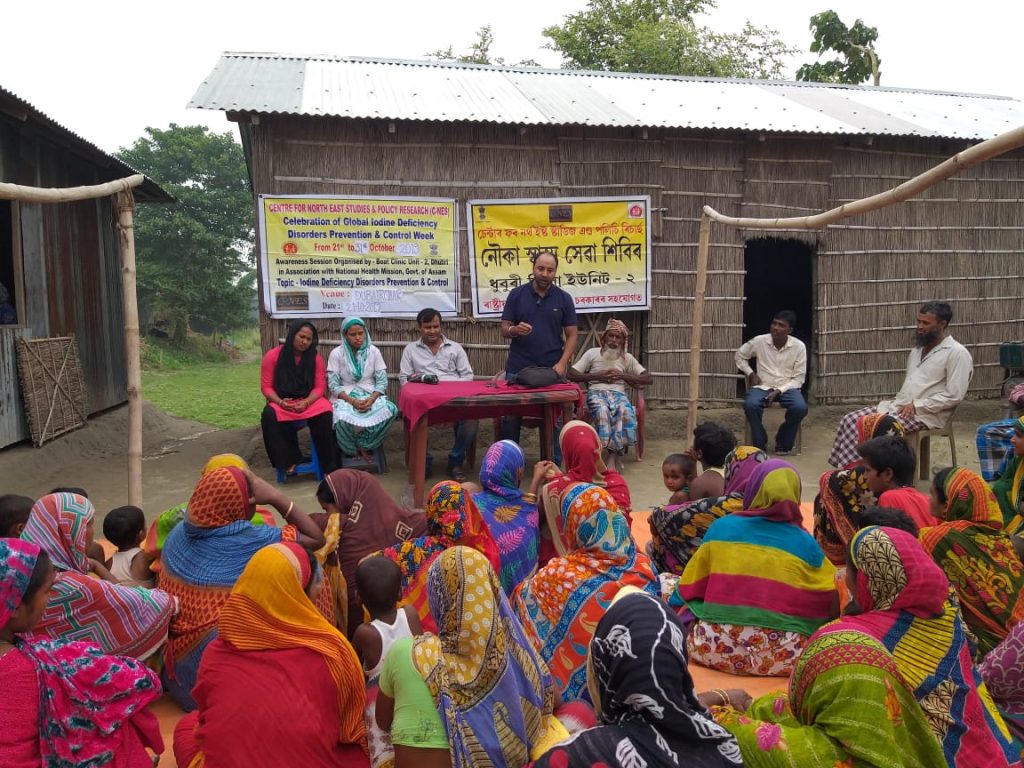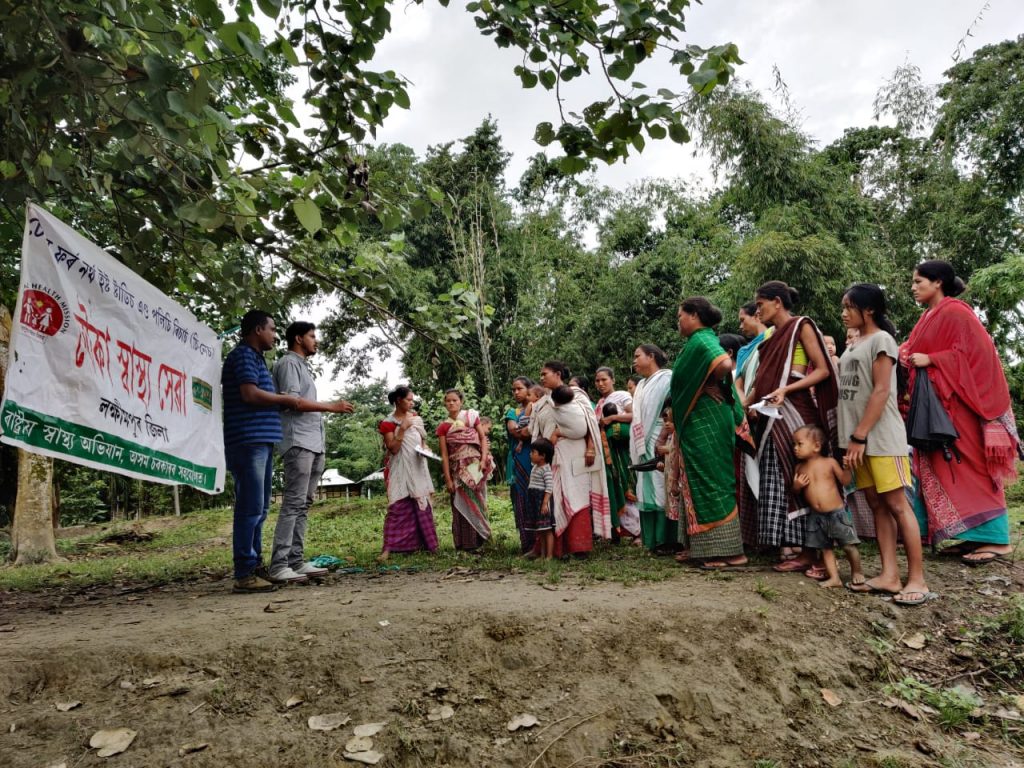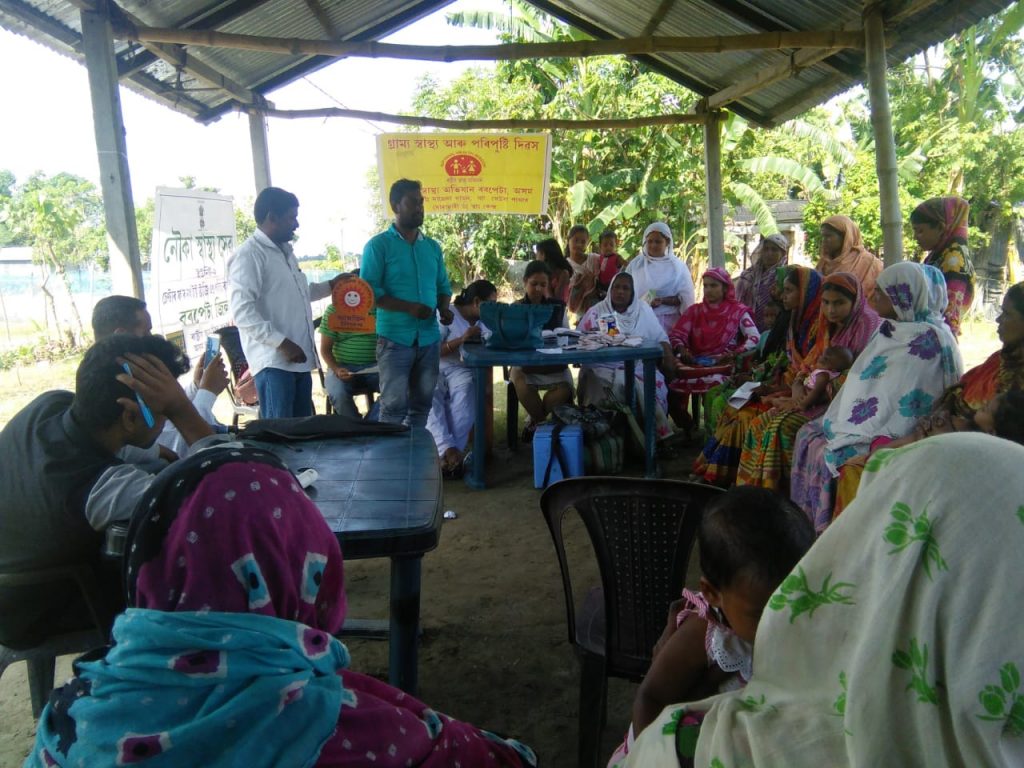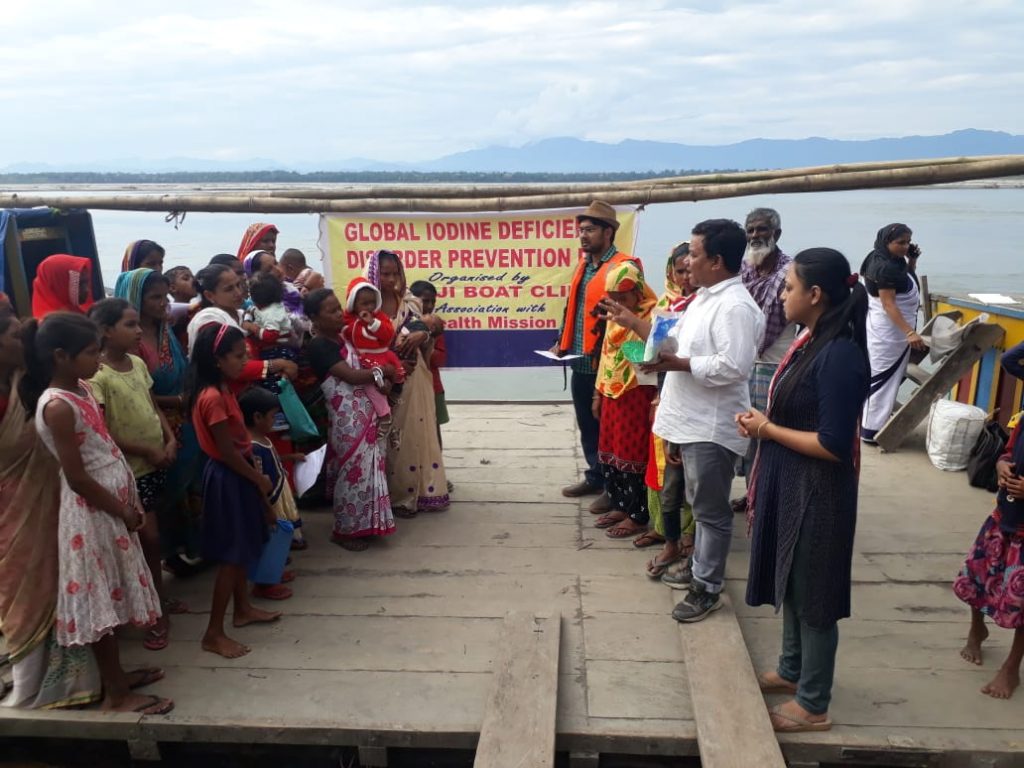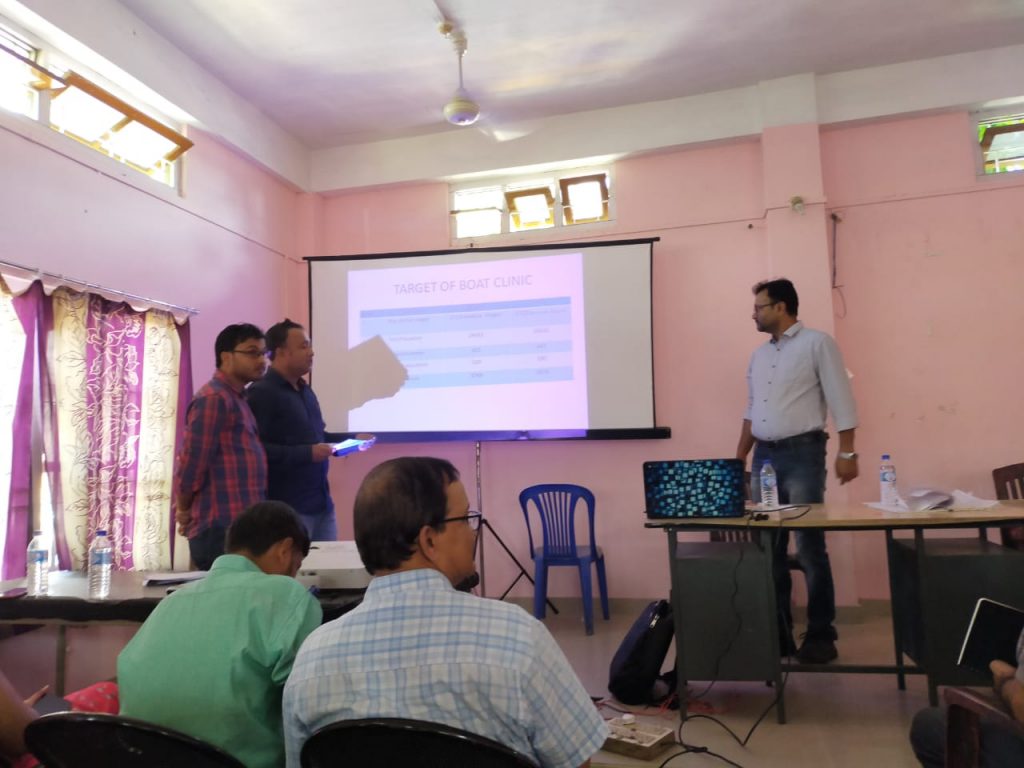 Family Planning Initiatives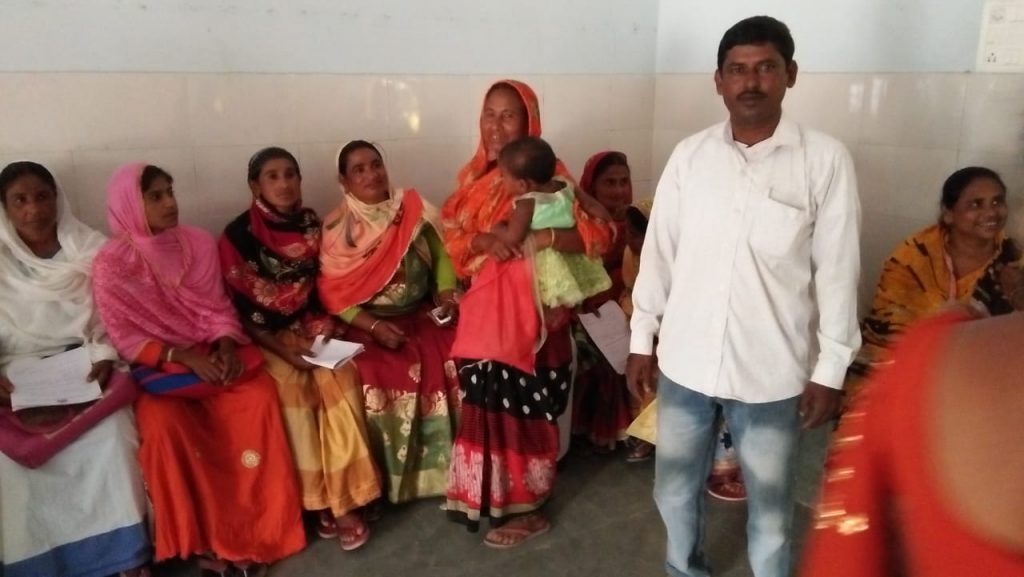 The Barpeta Boat Clinic Unit II initiated successful family planning measures on 18th Nov 2019 when 16 laparoscopic sterilizations were conducted after continuous and sustained motivation by the health team specially community workers Montaz Ali Khan and Anowar Hussein.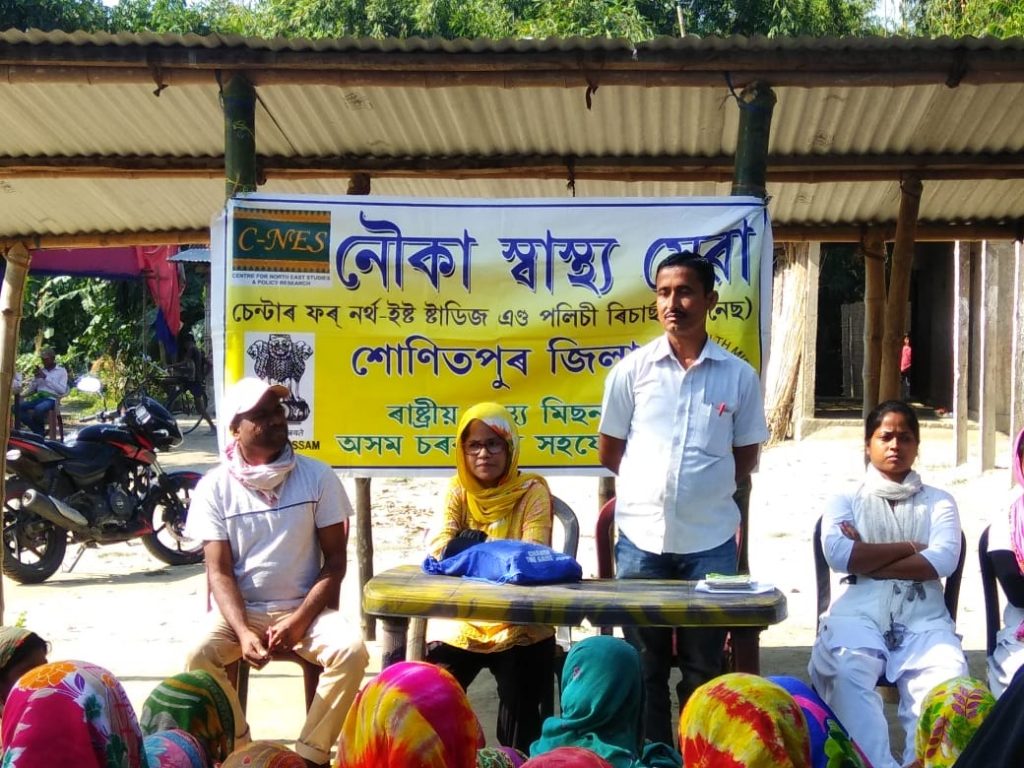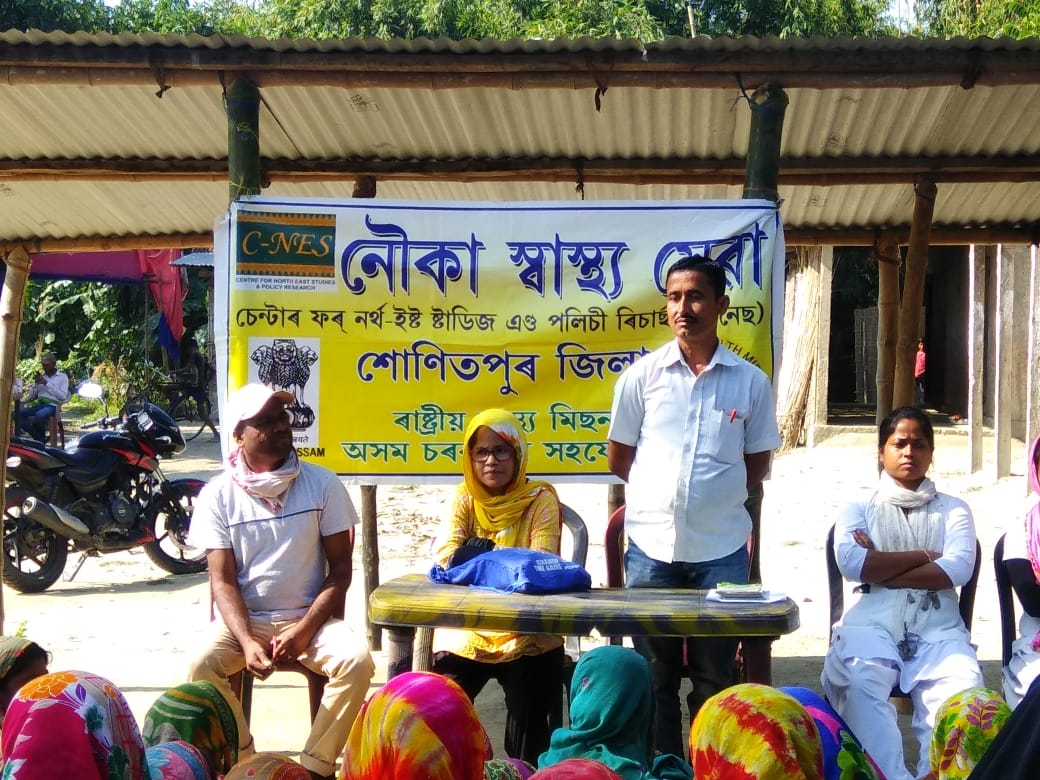 ---
Hope Stories:
Dibrugarh, October 16, 2019: Yesterday was a critical day for our team. Our boat clinic beneficiary, Kanchan Devi was detected as a high risk pregnancy because of her Rh negative factor. She attended OPD at AMCH Dibrugarh thrice, our nurses helped her. She was admitted to AMCH day before yesterday. Doctor at the Hospital informed our sisters and community worker that the patient needs immediate operation, and asked for 2 units of blood to be kept ready by the family. The family members who had not handled such situation earlier, became restless and nervous. The community worker mobilized some people residing in the main land, checked the blood banks, contacted local police, army and even blood banks from nearby Tinsukia district but failed to arrange blood. Finally one person from our intervened river island village who works at AMCH blood bank informed at around 7 pm yesterday that he could manage the blood much to everyone's relief . At 8 pm, the patient was brought to the OT and at 8.49 pm she delivered a healthy baby boy much to everyone's happiness.
Arup Saikia
DPO, Dibrugarh
Kamrup Boat Clinic: A new arrival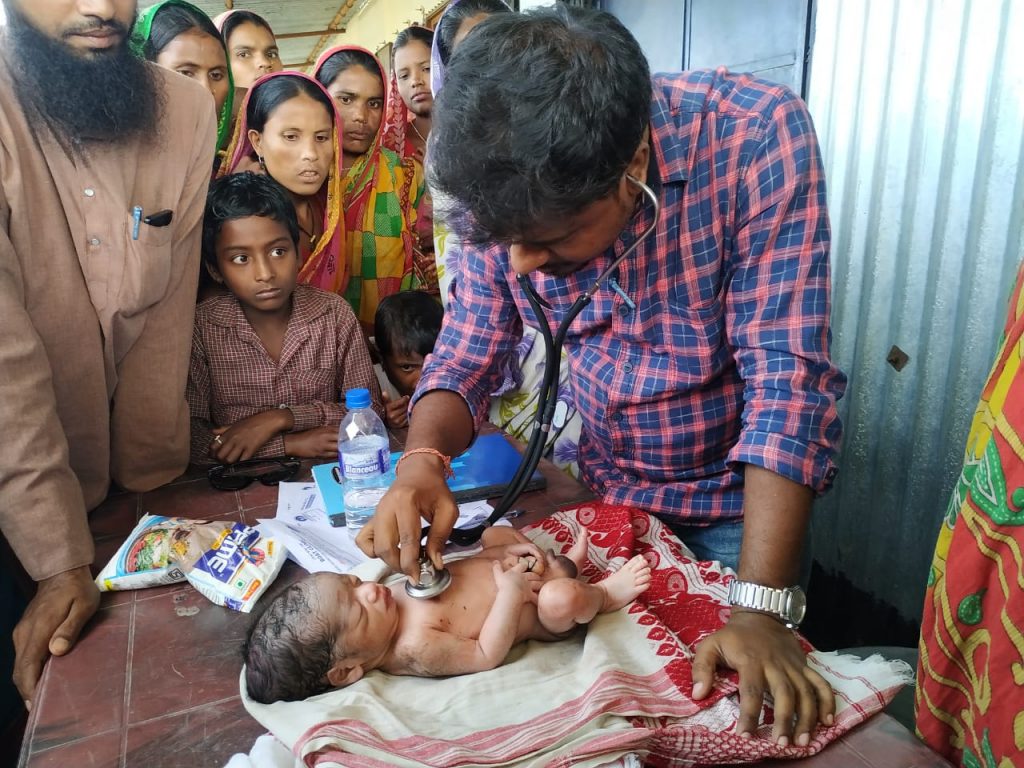 On 29th October 2019 the Kamrup Boat Clinic had good news to share. A pregnant woman under their care delivered a healthy baby near the campsite at Laheswari under the supervision of the team. The team was informed by the ASHA, the team had records of the pregnancy and good coordination ensured a successful delivery. Babies delivered by the teams have mostly been emergency deliveries as the boat clinics are not geared for this service. Home delivery is still common, in the river islands due to the remoteness and physical challenges of accessing health centres in the mainland land for institutional deliveries.
---
On AIR – Talks on the Boat Clinics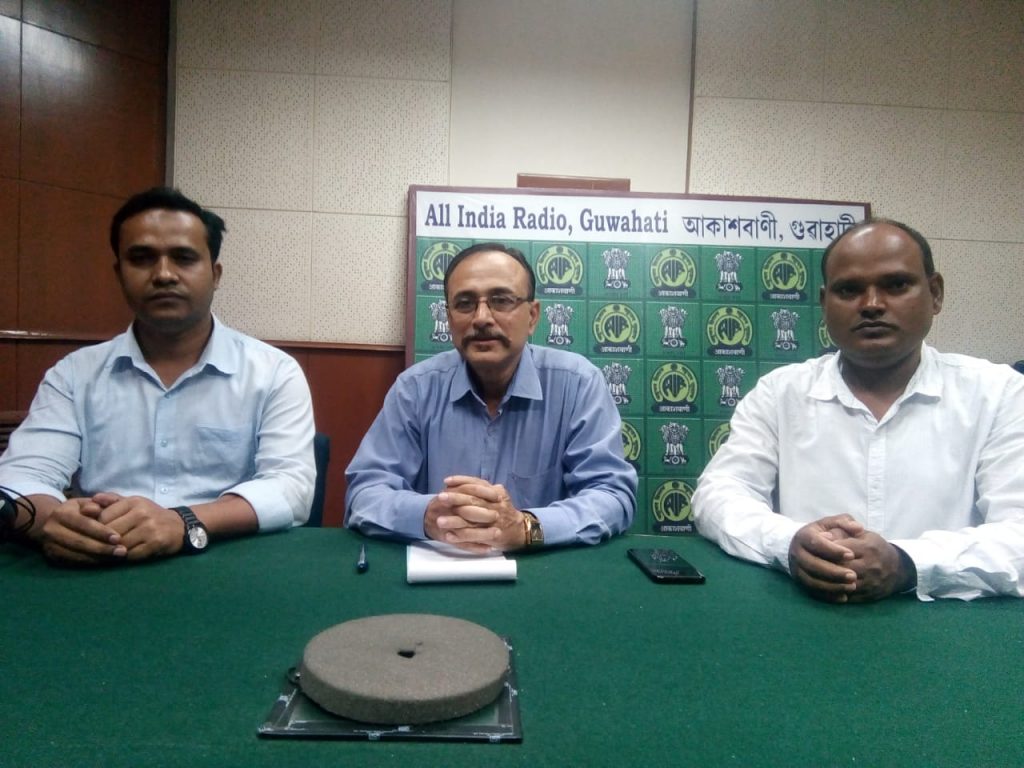 C-NES' Communications Officer Bhaswati Goswami delivered a Radio Talk on the Boat Clinics at AIR Gauhati on 16th Oct 2019.The talk was moderated by AIRs Nisha Barua.
While the Morigaon Boat Clinic team comprising District Programme Officer Shyamjit Pashi and Medical Officer Dr. Asraful Islam spoke on their district Boat Clinic activities at AIR Gauhati moderated by AIRs Sanjeev Goswami on 29th Oct 2019. Both programmes were aired on 14th November 2019 and 5 th December 2019 respectively.
---
Media Coverage
Boat Clinics covered by Hindustan Times on 26th November 2019. The link follows:
https://www.hindustantimes.com/india-news/in-flood-hit-assam-boat-clinics-bring-respite-to-many
Swedish Radio on Boat Clinics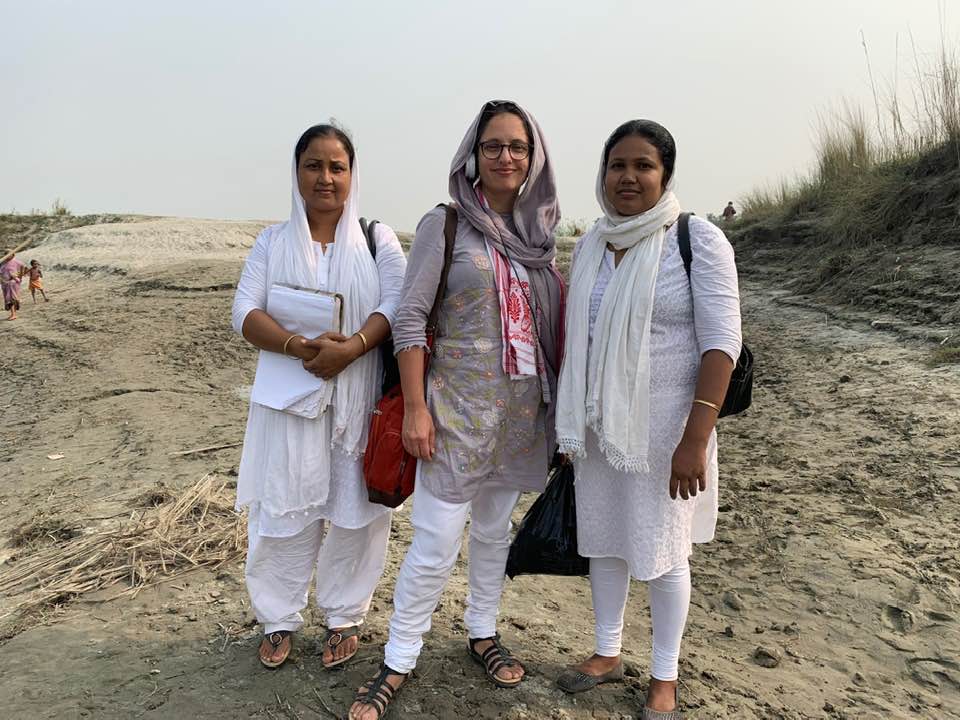 Swedish Radio Culture Correspondent, Naila Saleem from Stockholm and Arnab Dutta from the Centre for Science and Environment, New Delhi, accompanied by C-NES Communications Officer Bhaswati Goswami visited a health camp at Nalbari district's Somboriya Bazar conducted by the Nalbari Boat Clinic on 18th November 2019. Communications Officer Bhaswati Goswami accompanied the visitors. With water subsiding, the team has been sailing on a smaller country boat. It was a nearly four hour commute both ways followed by a long walk to reach the village. The visitors observed the camp where 192 general checkups were conducted along with 8 antenatal checkups, 3 post natal checkups, 14 routine immunizations and condoms and ocps distributed.The link to the coverage- both as a news and feature piece follows:
---
Sanjoy Hazarika visits Morigaon Boat Clinic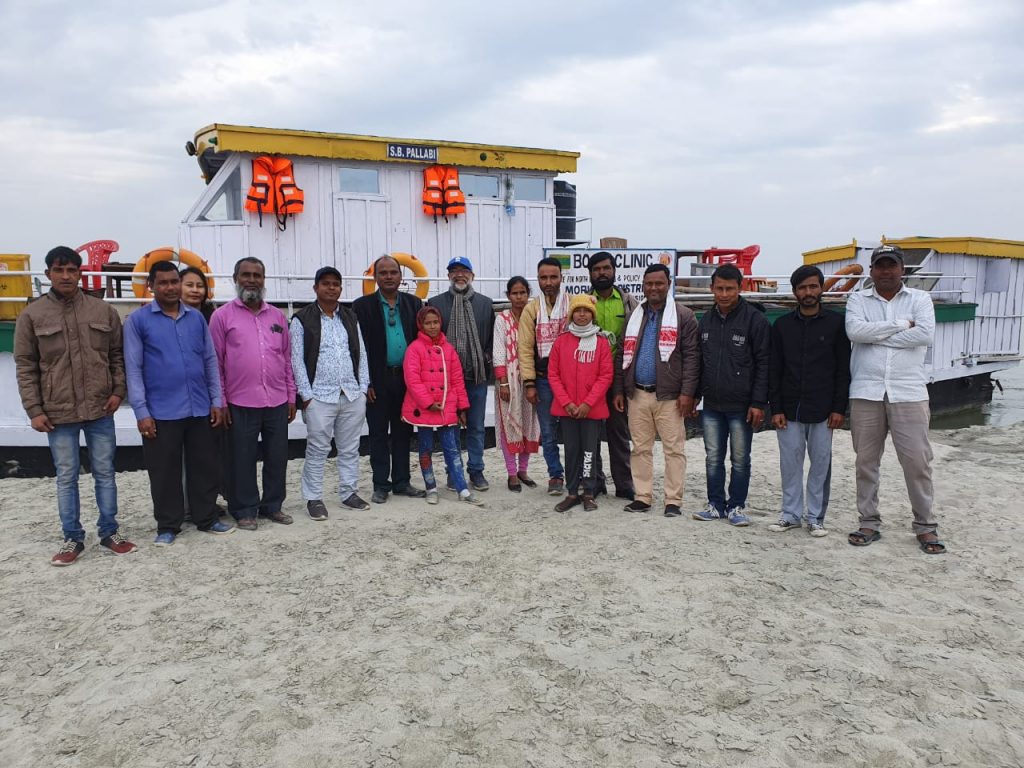 Sanjoy Hazarika, Managing Trustee, C-NES visited the Morigaon Boat Clinic on 31st December 2019 and spend the New Years Eve with the team onboard much to the delight of the team. The Boat journey from Kathoni ghat downstream started in the afternoon and the team reached Panikaity near Guwahati in the evening for an overnight halt.Ushering in the new Year the team shared breakfast with the MT on the river bank after which they parted ways for their respective destinations.
---
Visitors onboard
On the Boat Clinic experience: Arnab Dutta, CSE, New Delhi
Assam is a unique state, and the Boat Clinic initiative of Centre for Northeast Studies is one-of-a-kind initiative. On November 18, 2019, I had the opportunity of travelling with a team of doctors and health workers on one of these boats to a small river island in Nalbari district. I have seen primary heath care centres on land, but for the first time in my life I saw this unique exercise of delivering health services through boats.
It was awe inspiring to say the least, especially given the difficulties of accessing these river islands, let alone provide a comprehensive set of essential health services to some of the most impoverished people. I witnessed that during the dry months, when the water in the river reduces, the regular clinics housed in bigger boats cannot ply and therefore the team has to hire smaller local boats to access these islands. I witnessed that after alighting from the boats, the team had to trek a long way carrying medicines on bicycles. I also saw the boat clinic team open up four different verticals in a matter of minutes, two doctors attending to patients; a team of nurses addressing pregnancy and post-birth related issues; a mobile laboratory service; and an ad hoc pharmacy. I also saw hundreds of patients avail these services, with the team working with clockwork efficiency.
All this was beyond the imagination of someone who is a city dweller, and for whom these services just a phone call or a short walk away. The entire experience left me with a lot to think about and made be feel humbled and happy at the same time. Is this model for other states like Bihar and Bengal, I wondered? As affordable health care in India still remains distant dream, I witnessed a group of dedicated people trying to show the way. I wholeheartedly salute the people running the Boat Clinic Initiative for going beyond duty to help people. I hope this initiative grows in strength with time and becomes an example for others from outside Assam to follow.
All the best!!!
Arnab Dutta
---
C-NES Intern at Jorhat Boat Clinic
Abhinav Goswami, from Centre for Undergraduate Studies, Tata Institute of Social Sciences(TISS), Guwahati campus interned with Jorhat Boat Clinic in December 2019. He tried to understand the socio-economic scenario and complexity on the ground as a participant. Abhinav conducted some basic research on Bamboo production and its economic viability in terms of scope of marketing accompanying the health team to Ghuria sapori, Balisapori, Bhekeli 2, Pogola sapori, Bhakat sapori, New samoguri, Afalamukh, Besamora, Salmora and Kamjan. Interviews were taken with villagers about the scope of Bamboo industry in Majuli district. He also interviwed the boat clinic beneficiaries. "Boat Clinics program is highly successful and extremely attractive to engage young people to work in the sector of both public health and community service. Thus, I would like to contribute to the land and its people through professional community service as an intern at C-NES and thereby, expanding my horizon to further continue my professional community service in future' says Abhinav.
---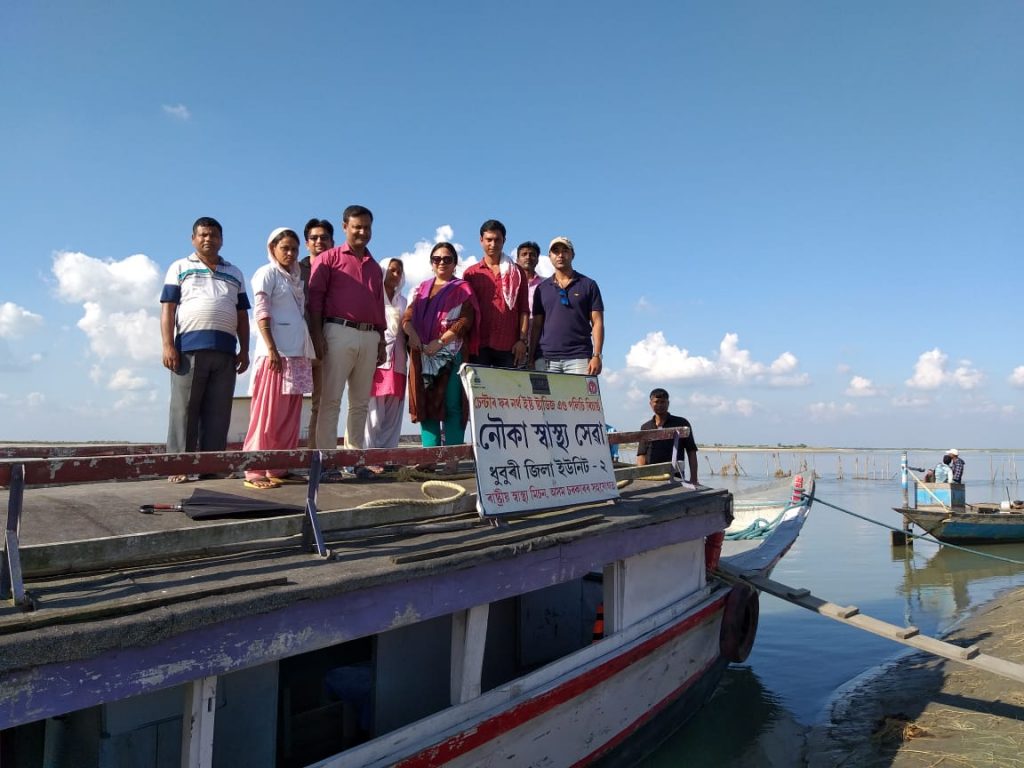 NHM Assam State BCC Consultant, Sikha Borthakur and Rubul Das, DME, NHM,Dhubri accompanied the health team and attended a camp at Chalakura Pt-5 conducted by the Dhubri Boat Clinic Unit II on 15th November 2019. The Consultant interacted with the villagers who gave her a positive feedback. The camp was held near the riverbank at 10.30 AM. An awareness session on early marriage, ANC and Family Planning was conducted. 169 health check ups,7 ANCs and 11 RIs were conducted. The visitors seen onboard with the health team.
---
The District Immunization officer Dr. H.K. Das accompanied the Nalbari Boat Clinic team on 20th November 2019 to a camp at Barballa III. He interacted with the health team and spoke about the importance of timely vaccination. The camp was conducted at the premises of the village L.P. school. The local ASHA, Samiron Begum was present. Before starting the checkups an awareness camp on Routine Immunization was conducted where there were about 120 beneficiaries present. 118 checkups were conducted, 28 children were vaccinated, 9 ante natal checkups done, and 6 Post natal checkups done.
---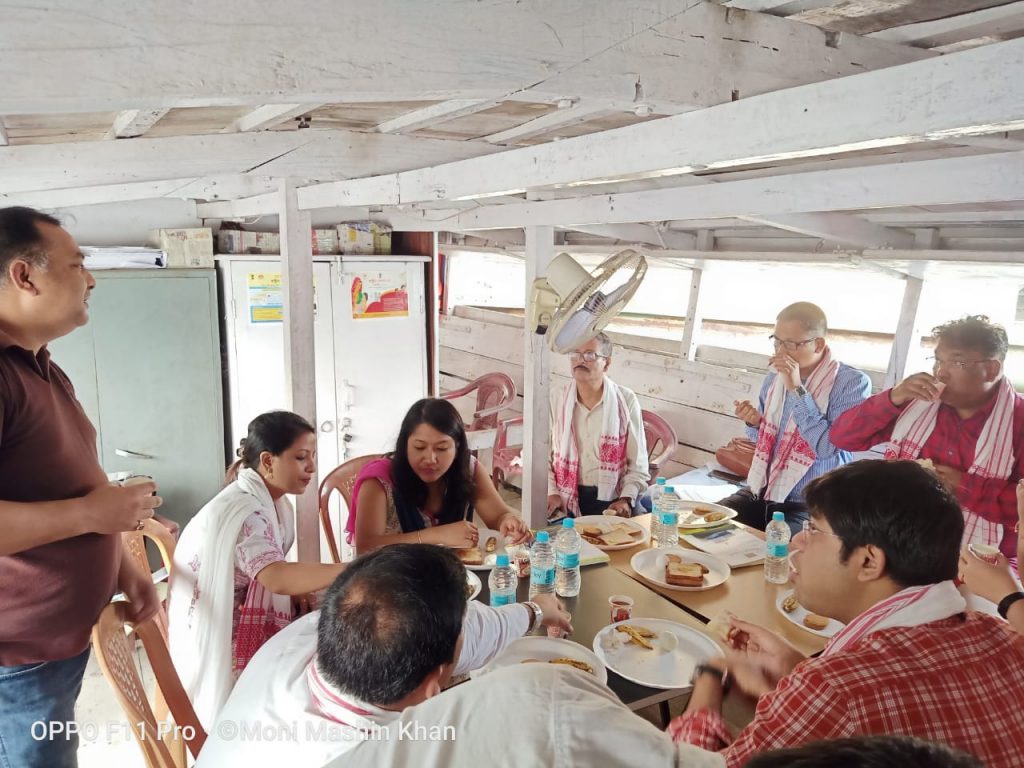 A team led by Dr. Zoya Ali Rizvi, Assistant Commissioner of Adolescent Health Division, NHM, Ministry of Health & Family Welfare, Government of India and comprising Dr. Parminder Gautam, Senior Consultant in Quality Improvement, NHSRC, Dr.Debojit Bora, Sr.Consultant, RRC, Dr.Rashid Ahmed Khan, State Adolescent Consultant, UNICEF. Mrs.Monikha Borgohain, SPM2, NHM, Assam.Mrs.Pran Purnima Borah, RKSK consultant, NHM, Assam.Dr.Emdadullah, JDHS, Dhubri, Dr.Prabal Mukharjee, Consultant, UNICEF, Purabi Brahma, DPM, Arif Ahmed, DCM and A.Das, DME, Dhubri visited a a camp conducted by the Dhubri Boat Clinic Unit-II on 20th November 2019. The team interacted with the team members of the Boat Clinic, looked at the activities conducted in a health camp along with the records/reports.
---
---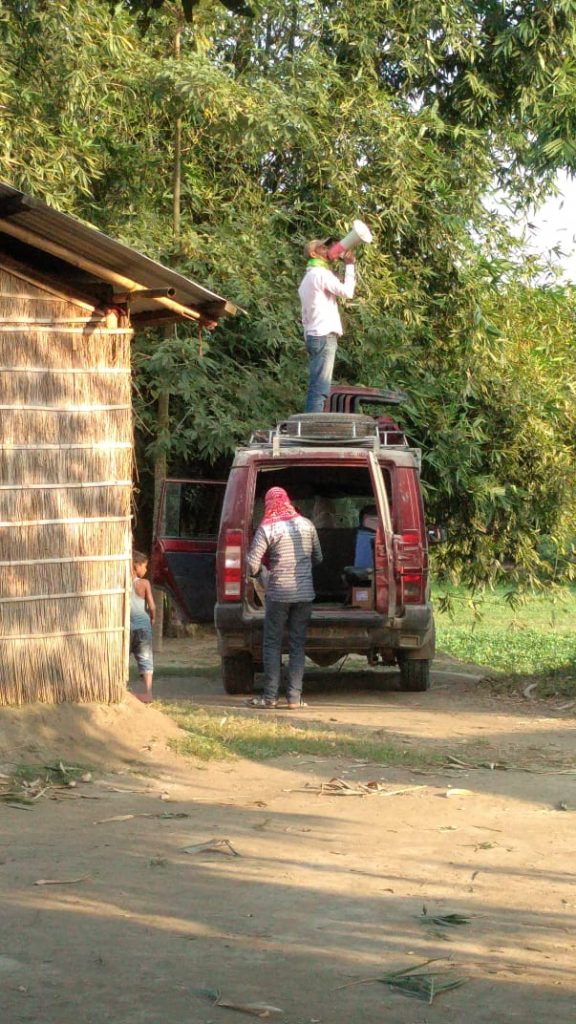 ---