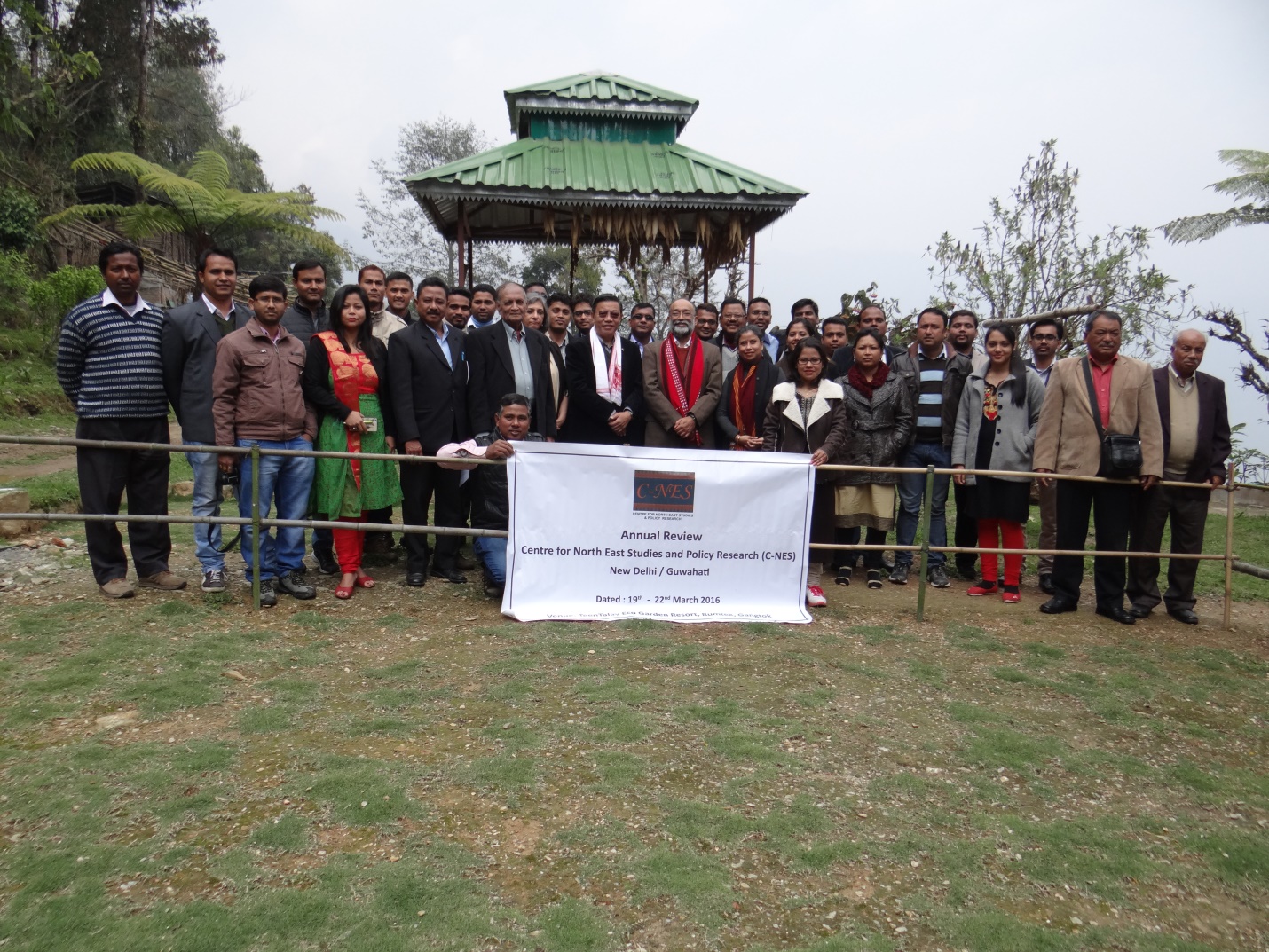 C-NES Annual Review Meet- 2016
"Good to listen to what you are doing- your challenges, how you overcome them, what you want to do. We have to look at ourselves and how we look at C-NES the next 15 years." These were the opening remarks of  Sanjoy Hazarika,Managing Trustee C-NES  in his welcome address at the  three day C-NES Annual Review Meeting organized at the picturesque, serene Teen Taley Resort, near the famous Rumtek Monastery on the outskirts of Gangtok from 20th- 23rd March 2016. This beautiful capital of the North Eastern Himalayan state of Sikkim which shares its borders with Nepal in the west, China's Tibet Autonomous Region in the north and east, and Bhutan in the east.Myanmar, is situated on the ridges of the Eastern Himalayas, which stands like sentinels to keep an eye on foes and friends.
Hazarika added "Where opportunities grow, the minds are getting narrower, we must make an effort to fight this. This is going to be more than a retreat but also a sharing of thoughts, experiences and ideas.  It is also a review of the work we do as an organization, as separate units and as individuals, of our growth and our failures, our successes and shortcomings, our personal and organizational/process challenges and the ways we can and are overcoming them. I am sure all of us will go back more energized and committed to the work we are doing; when we come together, we realize the synergy and power of people working unitedly for a common purpose'.
Over 30 C-NES staff comprising of senior Medical Officers, District Programme Officers from the 15 Boat Clinic Units along with the organization's  Family planning , Community Radio teams and staff from the Regional Office, Guwahati attended  the meeting led by the Managing Trustee, Sanjoy Hazarika. Eminent Trustees of the organization including Dr VA Pai Panandiker, Chairman, Board of Trustees, Dr Jayanta Madhab, Economist and Preeti Gill, literary agent and former Consulting Editor of the Publishing House Zubaan were also present along with Advisory Council Members Dilip Chandan, Editor, Axom Bani and P.D. Rai, MP, Lok Sabha (Sikkim).
The introductory session  saw the Trustees being felicitated with hand woven  gamochas (towels) and a memento –organic tea from upper Assam's famous Hatikhuli Tea Estate by  District Programme Officers(DPOs) of the Boat Clinic Units- Swapna Das (Barpeta II), Mousumi Duwarah (Sonitpur), Riturekha Baruah (Jorhat), and Chandana Bora from the regional office, Guwahati.
The first session saw an informative presentation by Rajendra Gurung, CEO, ECOSS (Ecotourism & Conservation Society of Sikkim)"The critical ecosystems of Sikkim and the Eastern Himalayas" where he spoke about why the Eastern Himalayas are so important. He began his presentation with a tribute to the Boat Clinic teams, that it was an honour to be present amongst such dedicated people. Established in 2001 to promote eco-tourism as sustainable part of tourism, ECOSS also works on forest management and zero waste practices with civil society groups. He informed that the Himalayas considered the "Water Towers of Asia' are the youngest mountains and are still evolving. Tibet and the Himalayas are known also as the Third Pole because of the vast reservoir of stored fresh water in their huge ice and snow deposits.  India has two biodiversity hotspots among the 22 world wide- one is the Eastern Himalayas and the other is the Western Ghats. Sikkim, he said, has high altitude lakes including strategically located salt water lakes in the Himalayas which are over 50 million years old, exotic wild life such as the snow leopard, and the Sikkim stag. Highlighted Sikkim's status as India's "Green State" he said that logging is banned in the state, afforestation and tree planting is encouraged actively by the state government and was one of the few states were the forest cover is actually growing. Every river, forest is considered sacred in the state. Moreover the indigenous Lepchas are nature worshippers. He further said that this was the only peaceful state in the region which makes it conducive for the growth of industries and has resulted in increasing investments from outside the state. The positive developmental indicators along with the state being declared organic has worked very well for the state, he added.
Among the threats, Gurung mentioned deforestation and habitat degradation, of corridors being lost to jhum cultivation and that less than 25% of the natural habitat of the eastern Himalaya remains. Human- wildlife conflict, poaching, bio piracy, climate change, were the biggest threats to the Himalayan eco system. Moreover no cumulative study on the effects of dams have been done so far,he mentioned. It was a matter of concern that orange, squash and a lot of alpine vegetation are moving upwards, a lot would eventually vanish. Soil erosion high, dams are contributing to the damage along with mining- sand and stone from the river bed. He further spoke about modernization and a vanishing culture. "Is sustainable development an oxymoron? "he questioned, concluding his presentation  with an appeal to, "Leave nature alone".
Speaking on "C-NES – Looking back at 15 years and at Future" Managing Trustee Sanjoy Hazarika said that "while the health part of the work was important but is this the only thing we do"? He stressed that there is a need to look at skill development so that people can improve their quality of life with basic skill improvement which would lead to local employment . "Skill it in the districts you work, beyond your work" he added. He lamented about the state of the river Teesta at Sikkim which has become a pond now, a lake without flow which he said was "the price of development".
The  session "From The Field:  Achievements & Challenges" saw presentations being made from individual Boat Clinic units  followed by active interactions chaired respectively by Dr Jayanta Madhav and Dilip Chandan. Each team was given 10-12 minutes to highlight their work, concerns, gaps and issues. It was felt that overall the presentations by the teams had improved since the last such meet at Kohima in 2014. New collaborations and developments were highlighted.
At Jorhat, dental health services were initiated from March 2016 supported by Mahindra Finance as part of its Corporate Social Responsibility  Policy. "There was a huge crowd turn out the first day itself" said Dr CR Hira, Technical Consultant who was present at the inaugural camp along with Programme Manager Ashok Rao.
Similarly Mobility India, an organization working on disability conducted the first screening camp with C-NES at Morigaon as part of the district boat clinic camp where the health team was taught  how to conduct survey and identify physical abnormality. According to the Medical Officer Dr Ashraful Islam such people did not attend camp earlier due to social stigma. "The information about the screening camp was given to the Asha sand many people were there" according to Shyamjit Pashi, DPO, Morigaon. Out of the six children screened and sent to the district Sarba Shiksha office, five were given hearing aid.The Managing Trustee suggested about giving this facility of screening disabilities to all districts and the need to look into their quality of life.
There were positive developments from the Boat Clinic units. Family planning was slowly gaining some amount of acceptance- for instance at Morigaon men were allowing their wives to adopt family planning measures though they are still hesitant about adopting it themselves.  The teams are trying to reach the people with family planning messages through constant awareness talks and street plays. At Dhubri maternal death has reduced. According to the DPO Boat Clinic Unit II Mehebub Alom Hazarika. People are becoming aware of diseases and symptoms and seek medical remedy at initial stages of ailment. ANC, PNC interventions have seen significant changes, keeping in mind social barricades. There has been similar positive changes in RI as well. The DPO Goalpara, Mitra Jyoti Konwar said that there has been a change in attitude of district administration towards the Boat Clinics which has helped the team work better. They have held mega awareness camps on family planning- beneficiaries are keen to come to the unit also for the laboratory tests. DPO Bongaigaon, Monjur Mandal said that when funds are in paucity his team observes other activities like nutritional camps and group discussions on family planning or other relevant issues like IUCD, laparoscopy, and hold street plays with funds from DHS, NHM.
The Managing Trustee spoke about the various challenges the health teams face even while providing such dedicated service. He said that he was moved that "you have been able to do this difficult task and moved by your commitments". Irregularities in receiving funds, frequent resignation of staff (MOs) migration of targeted population and subsequently the drop out rate increasing. Hazarika asked the health teams to, "document the culture of indigenous tribes, hold exhibitions, for this is not just a health programmee, but a platform a madhyam for community upliftment".
A critical part of the discussion at the meet was on boat repairs and the need for immediate repair on priority basisas part of efforts to take responsibility and for greater transparency.
Manik Boruah, Associate Program Manager gave a short presentation on boat repairs wherein the Trustees objected to  any bill to the builders after the work has been deemed complete should be accepted.It was felt that some technical expertise as needed to assess boat repair. Manik Boruah asked the district health teams to maintain a checklist for boats in consultation with the boat master and that there should be promptness in action and swift response to the same.
Appreciating the service of the health teams, Trustee Dr Madhab and Advisory Council member Dilip Chandan who chaired the sessions said that this was something "we are giving back to society with nothing to return". Mr Chandan, a journalist and the Editor of Axom Bani,a prominent Assamese journal said that not too many journalists go to the river islands to cover stories and so the teams can share such unique stories giving the teams an offer to publish stories which they give. "Thanks all of you – your service and dedication will be indelible in the history of Assam" he added.
Hazarika asked the teams to start their reporting with an interesting narrative.He said,"think of interesting developments/events that you have witnessed which may be unrelated to the BC programme but which have relevance and bearing on the lives and livelihoods of people in your district, record them, photograph them if possible and send them to our PMU and they will convey to me".   Trustee Preeti Gill said that there has been a great improvement in presentations since the last Review meet at Kohima in 2014 and said that the workshop on documentation and reporting which was subsequently held after the Kohima meet has definitely contributed to this. She further added "It is good to speak in English since it is such a unique work that you are doing, each one of you is a publicist. Start with a narrative, a touching story, an episode. Why something worked or didn't should be mentioned. For men to send their wives for sterilization is a good story. Make a connection between the written word and the practical world looking at the bigger picture".
The second day of the meet started with felicitation of Chief Guest Mr. P.D. Rai, MP, LokSabha (Sikkim), C-NES Advisory Council member and Chairman, C-NES Board of Trustees, Dr VA Pai Panandiker, Founder President of the Centre for Policy Research, New Delhi. A citation for C-NES Trustee Niketu Iralu, renowned Naga peace activist and his wife Christine Iralu was read out by PD Rai and Sanjoy Hazarika as a gesture of appreciation of their support to C-NES.
The book on C-NES' Boat Clinic " Hope Floats: Boat Clinics of the Brahmaputra" co-authored by Bhaswati Goswami,Communications Officer and Managing Trustee Sanjoy Hazarika supported by  the National Foundation For India (NFI) was released by the Chief Guest. The Managing Trustee briefed the gathering about the book- how it documented the unique and extremely challenging work by the health teams in the river islands of the Brahmaputra in Assam. Bhaswati Goswami thanked Professor Hazarika for giving her the opportunity to write the book and that "she was overwhelmed by the experience of documenting and writing the book, about the extremely difficult work of the health teams and the dedication with which they work". She hoped that the book would spread the good work further.
Speaking on the occasion Mr Rai said "C-NES is doing fabulous work with the Boat Clinics.  I would say it is the most comprehensive work in terms of experience. This book would go a long way in terms of letting us know how the untold miseries of people living in such a fragile eco system has been improved by making health and education accessible to them Skill building is one area C-NES can look at as there are huge opportunities in this."
In his speech Dr Pai Panandiker, Chairman of the Trust emphasized on the need for reaching out to the community and creating a bond for a better interaction. He spoke about the importance of HEE (Health, Education and Employment) as a major tool for development in the region and encouraged C-NES to contribute within its own resource ensuring that every efforts do not go to waste. "We as Trustees will ensure that you get all possible help. Our main effort should be to enable you to have every capability to be able to offer the best you have to the people you serve" He highlighted the importance of the need to create skills and capabilities."We should look at both the macro and micro levels and a team from C-NES will soon go to Manipal to see how skill development can be taken to the next level. While there are challenges in the areas where you work but there are also plenty of opportunities. North east India is a great place for providing the gaps in skilled service. Globally too, the Japanese and the Germans want skilled manpower. I wish you all the best."
Welcoming all to Sikkim, Mr P D Rai said "Inspite of the state being declared a green, organic state, many of us who love the mountains and the river is sad with the Teesta slowly dying. With 28 hydel power projects here, politics around water is frightening. Hopefully we will build much better and smaller power projects in future without spoiling rivers"  He further added," This is one state in the country where is an increasing forest cover. The state of the Teesta is the only negative in this state when it comes to the environment. The Sikkim model of growth has been made possible by three factors. Fundamental to this is peace and one societal asset we have is communal harmony and peace. Total credit for this goes to the imaginative leadership under Chief Minister Pawan Kumar Chamling. Secondly we have a vibrant local empowerment with Gram Panchayat. Thirdly woman empowerment in the state is very strong. We still have a long way to go, there is corruption, something we need to look at urgently along with sustainable hydel power generation. We need to reexamine our development model"
The presentation on C-NES' family planning initiatives under the PFI programme was made by Chandana Bora, the Coordinator. The session was chaired by Technical Consultant Dr CR Hira. Bora spoke about the visible changes in the districts where the PFI project was implemented and how people are readily accepting family planning measures..The presentation and audio clipping from the Community Radio Station by Coordinator Bhakar Bhuyan was much appreciated. Bhuyan said that the radio was becoming so popular that most corruption issues come to Radio Brahmaputra and that BCRS was doing intervention which the government could not do. Trustee Preeti Gill said that one needs to be careful about spellings and correct grammar for a good presentation. She also said that traditional best practices like medicines can be highlighted through the radio station and that there was a need to see how it compares to other stations across the country. "Take opportunity of skill development- radio jockey, documentaries makers, crowd funding and hot line are some of them. There is a huge resource at your disposal and make use of it.
During the concluding session of the meeting Programme Manger Ashok Rao offered a vote of thanks said that this year performance of the teams have been much better than last year. Most presentations have improved. But added that reporting needs to be done on time. Financial reporting should be given on time as SOEs have to be submitted to National Health Mission(NHM) on a quarterly basis.The ongoing and possible collaborations between C-NES and other organizations were listed:
Mobility India– Disability survey and identification of cases
Centre for New Perspective: Traditional Health Practices
Dentistry- supported by Mahindra Finance
PHFI- Research programme
IKure- Digital data management
104- helpline on medical care
PFI – Family planning
Manipal University – Collaboration (health, education, research, livelihood)
Internship
Operation Smile
Company from Boston with ENT diagnostic probe
Scholar from Edinburgh collaborate on maternal issues
Singapore University (Flood issues)
NE MPs Forum
Jamia Millia Islamia
ECOSS
Tezpur University
The final evening of music and songs was delightful: team members put up a wonderful presentation of song and dance, mostly impromptu. Programme Manager Ashok Rao and Dr Rahul Mistri, Medical Officer Dhemaji were on the guitar along with Roben Das, DPO Barpeta Unit I on the traditional dhol (drum). Dr J Deuri, Medical Officer, Dibrugarh led a chorus, singing Dr Bhupen Hazarikas universal brotherhood song "Manuhe, manuhar babe". Swapna Das DPO, Barpeta unit II, composed a poem on her beautiful experience at Sikkim with a comparison between the Teesta and the Brahmaputra in her home state. Newly appointed DPO  Mitrajyoti Konwar recited  a poem on the Kanchenjunga composed by Jyoti Prasad Agarwalla, Assam's cultural ambassador.  Sultan Nekib, DPO Dhubri Unit I rendered old Hindi Kishore Kumar hits with Monjur Mandal, DPO Bongaigaon.The Managing Trustee sang American singer-songwriter Bob Dylan's iconic song" Blowing in the wind' with Preeti Gill. PD Rai and his wife, Jean Rai and Bhaswati Goswami. The programe ended  with the ever favourite Bihu, led by DPO Lakhimpur Tapan Bora and Pavez Ahmed, DPO Nalbari with most members joining in. The programme was compared by Bhaswati Goswami and Chandana Bora.
For three days the staff at the Teen Taley Resort took care of the staff, meals were home cooked, wholesome and delicious complete with fresh vegetables from the organic garden of the resort and dairy products too. The stay at the Retreat Centre provided opportunities to the team for internal discussions between members, sharing and learning and living together welcomed by green, cool forests on the eastern Himlayas, freshly washed by rains.
A quick visit to the nearby Rumtek monastery was organized. The monastery, also called the Dharmachakra Centre was originally built under the direction of the 12th Karmapa Lama in the mid-1700s. Surrounded by flowing streams, mountains behind, a snow range in front, and a river below it was rebuilt with the generosity and help of the Sikkim royal family and the local folks of Sikkim, by the 16th Karmapa as his main seat in exile.
The trip concluded with a  visit to Chango Lake at an altitude of 14,000 feet with minus temperature on the 22nd March.  Most of the peaks were covered with snow. For many, this was the first experience of  witnessing snow on the ground and they joyfully threw it on each other. They were awe struck by nature's majesty, impressed by how Sikkim has managed to remain such a eco-friendly state  where people revere nature are ever so humble even inspite of rapid development industrially.
Report  Prepared  By:  Bhaswati Goswami, Communications Officer, C-NES