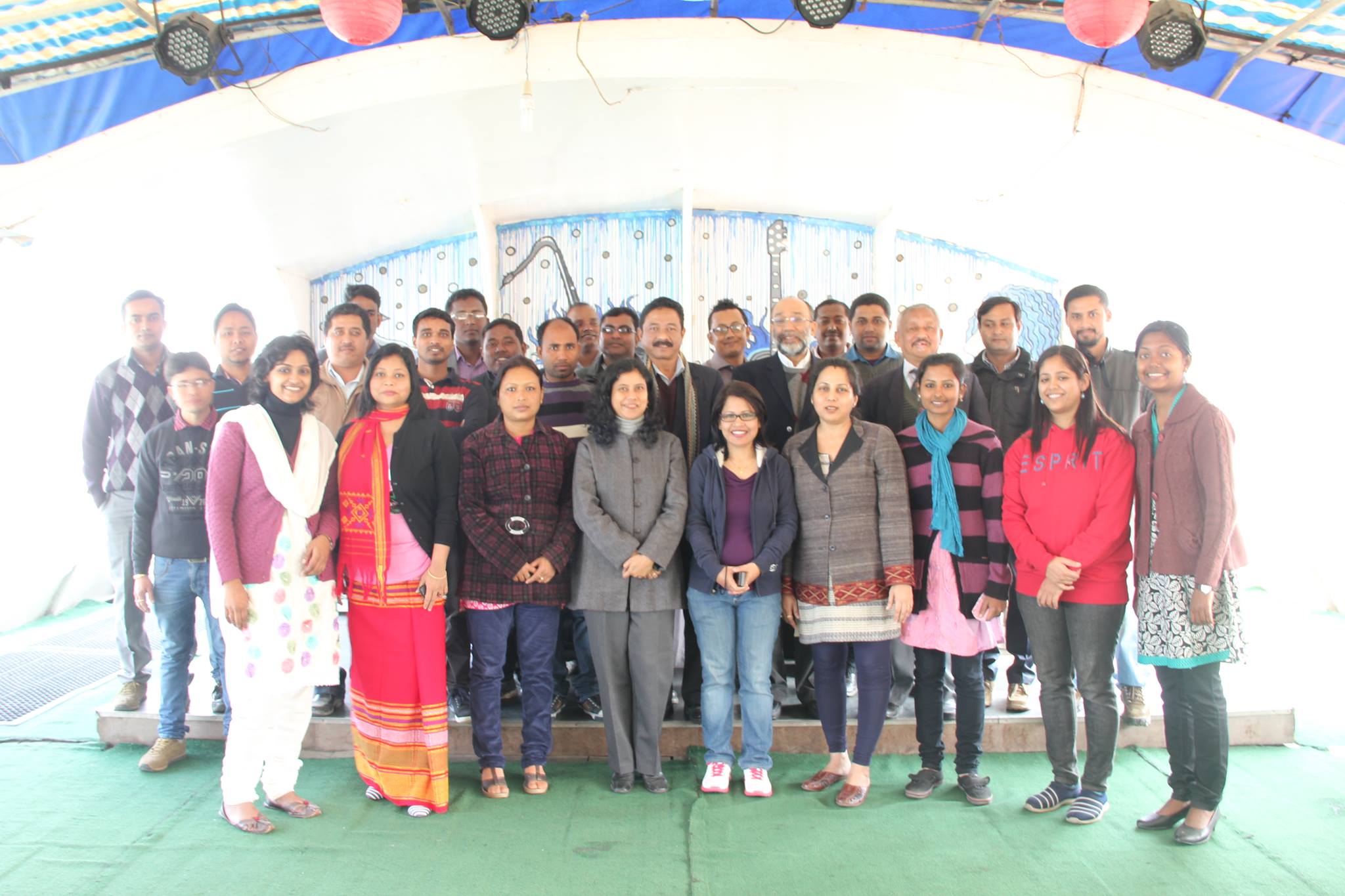 C-NES Newsletter (January-March 2014)
By the Brahmaputra (Vol: 25)
C-NES Newsletter
(For the quarter January – March 2014)
Editorial
By the Brahmaputra
Order, Disorder and Change
Whenever one travels to Europe or parts of South East Asia, like Singapore, one is always struck by several things: one is the sense of order and balance, especially in a country as Germany when I have been for a few days. The other is a sense of cleanliness and respect for the rights of others.
There are many more — because of large scale migration and movements of people, Europe's urban centres are becoming more international and 'mixed'. Even in the sleepy little town of Schwennigen (population about 45,000) not far from Stuttgart in the warmer, more liberal Southern German province of Baden Wutternberg, I am told that a fine new Indian restaurant has sprung up. As we travel and visit new areas, we notice more Asians, Africans and people from the former Eastern Europe of the former Soviet Union who have come to settle and stay, bringing their culture, food specialisation, music and interests to their new homes.
When I look at pictures of or experience the traffic chaos in places like Delhi, Bangkok, Dhaka, Cairo and even little Katmandu, I am reminded of a sense of acute disorder. But for those who visit, it must also be an abrupt dose of culture shock which can lead to disorientation and concern about the condition of society and the regulatory order.
Of course, there are a broad range of sociological, historical and ethnographic reasons for the vast changes in approaches in our very different societies. That is a given. But why is it that we don't learn from some of the best practices in Europe that can be applied with little cost to our urban settlements, especially. One is the issue of parking: in most towns or cities in South Asia, with the honourable exception of Sri Lanka (which is in the dock for its human rights record and the crushing of the Tamil insurgency at great loss of civilian life), the parking your car often presents a major challenge: you have to entrust your vehicle either to a parking attendant who appears to have just learned how to drive or are persuaded to leave your car in neutral so it can be pushed to some other corner.
At the end of it all, the car may be blocked on all sides or scraped or bumped by others. In all this process, arguments are frequent; fights are not unusual, especially when the heat rises. Yet, there are many learning experiences from other Indian cities that can be of use for us in a region as disparate as the North East of India, as I referred to in a recent column. There is also a new publication on Indian cities by Dr. Isher Judge Alhuwalia, a formidable economist in her own right. She is also married to Dr. Montek Singh Alhuwalia, the suave Deputy Chairman of the Planning Commission in the Government of India, on our urban conglomerates and which institutions are working well where and what needs to be change — and how.
One of the things that we need to look at is the issue of regulation: for instance, why is it that we manufacture so many cars when our roads can't take it? Why are X numbers of cars allowed into a small town just because people want to buy them? When there's no space to park or drive safely? The mismatch is a combination of ill-conceived government policies which feeds into middle class egos, rising incomes and aspirations — as well as that very basic human instinct: greed — along with the push by multinational corporations that seek to meet that hunger, fuelled by policies (which benefit them) and the middle class and rich, which pay for them. We regulate the wrong things.
These past days, I have been driving and walking around the Black Forest area of Germany — or rather being driven by relatives — where we have moved off the highways and auto banns to tiny country roads, winding along green and yellow meadows, pastures, moving through cool forests and warm valleys, watered by streams and the beginnings of great rivers like the Danube (known across Germany and Austria as the Donau — don't ask me why we learned of it as the Danube, I don't have a clue). This is a place of extraordinary beauty. Castles perch on mountain crags, monasteries sprawl in the valley, the river flows gently and the farms are peaceful and prosperous.
Remember this is a nation that was completely destroyed at the end of the Second World War; it had lived inflicted an unspeakable horror on its own people and on Jews across Europe, killing not less than six million of them. The economy was in shatters, its buildings in ruins, people went hungry, there were food lines and occupation armies. It was a defeated nation whose citizens were shamed by their recent past (interestingly, the last French army contingent in little Schwennigen left only last year, I am told; at US army bases in Frankfurt and elsewhere, German nationals unless authorised are not allowed).
Nearly 70 years after the end of the Second World War, Germany remains Europe's robust economic engine, propping up weaker economies, asserting a greater role on the European and world stage. The nightmares of the past are behind it, it seems. Take a look at how in little roads and small towns, the German characteristics of regulation and discipline assert themselves. Cars park on streets, in painted spaces, a times on pavements, giving enough space for walkers on the latter and cars for the roads. The only disturbances are the very fast motor bikers who roar along the highways and small roads but even they slow down when they approach a village or town. There are mountain paths where cars, bikes and carts can't go. Only walkers can.
Even in our hill states, barring Sikkim and Arunachal Pradesh, even where populations are low, it's difficult to get about on paths without meeting swarms of people and vehicles, if not livestock. The hill towns are crowded and like Shillong, gasping for breath, as relentless uncontrolled growth continues, spurred by greed and rising aspirations. But when I go there, I manage to get away to a small forest not far from home and walk for long periods. But these are shrinking spaces and that's where our over-regulated bureaucracy and top-heavy, oligarchical political structure with its millions of laws and by-laws have failed: we've just junked what's good and practical for what's quick and what benefits the rich, powerful and elite. To protect our surviving wildernesses will take continuing energy and commitment.
But there are ways of doing it simply.
Thus, a friend of mine has developed walking paths in little known areas around villages in Central England and put them up on the internet. The paths take you through villages, meadows, farms, forests, across streams and point out the best pubs and food places in the area. It doesn't cost anything: just time, patience, a little imagination and a touch of technology. It draws tourists and travellers, brings in much-needed income to village economies and protects the ecosystems for those who come are interested in their environment. Can this not be done for the Sacred Groves of Meghalaya, at Mawfphlang, for example. For the caves at Siju in the Garo Hills, wrecked by haphazard coal mining, before it is too late. Protect the hill paths, the village trails, the bamboo bridges across streams … they connect us to our past and a possible, kinder future
(Sanjoy Hazarika
Managing Trustee
(From his regular column in the Assam Tribune published on 17th April 2014)
---
"Where There Are No Roads"  wins Best Film Award

C-NES film
on the Boat Clinics directed by Maulee Senapati and produced and scripted by Sanjoy Hazarika "Where There are No Roads"
 won the Best Film Award in the category-Health in the first edition of the Woodpecker Film Festivalwhich concluded on 
Dec 21
 with a glittering Award Nite.
The Woodpecker Film Festival and forum is part of the 'Cinema for Change' initiative of CMSR Foundation. The foundation is not-for-profit wing of New Delhi based communication and research think tank CMSR Consultants and a registered body under the Indian Trust.A major legacy of Indian cinema has been its ability to nurture diverse genres of films and filmmaking traditions. While the distinction between mainstream and parallel cinema is almost getting blurred, a new breed of alternative filmmakers, successfully blending entertainment and meaningful cinema, is taking ground. The Woodpecker Film Festival and Forum (WFF) thus not only aims to showcase this rich mélange of visual creativity in the country but also promote films, documentaries and advertisements focusing on socially pertinent themes like education, environment, health, gender and children through this film festival.
---
C-NES at Cultures of Peace
Cultures of Peace, the Festival of the Northeast started in 2011.Through writing, music, film, theatre, media, photography this Festival aims to showcase the cultures of the Northeast and bring important and pertinent discussions to the forefront, it aims to build bridges and make connections with the rest of India, and to create awareness of the region, as it is, in its present day context. It is organized by Publishing House Zubaan in collaboration with Khublei and supported by the Heinrich Boell Foundation. The Festival has been growing with each year and expanding its reach to different cities and spaces. The Festival has been organised at the India Habitat Centre, New Delhi for two years consecutively. In January/ February 2014 the third edition of Cultures of Peace was held at Pune, Mumbai and Guwahati in collaboration with local partners.
At the Guwahati event, Dr Dipankar Das, CEO, Bhaswati Goswami and Sangeeta Barua from C-NES regional office, Guwahati were present and participated at the festival interacting with the panelists and the audience. "May the Cultures of Peace bind us together through Women Writers of this region" said Preeti Gill one of the main organizers of the festival and the editor of Zubaan thanking all directly and indirectly involved to make the programme a success.
It may be mentioned that Preeti Gill is also a C-NES Trustee. Managing Trustee Sanjoy Hazarika was one of the main panelists at the Pune and Mumbai sessions of the event.
---
Review Meeting at Guwahati
A C-NES Review meeting was held at Guwahati on 16th January onboard the Cruise Liner Alfesco anchored on the Brahmaputra at Guwahati's historical Uzan Bazaar river bank. 15 DPOs from an equal number of Boat Clinic districts to take health services to unreached communities on the Brahmaputra were present at the meeting along with the Family Planning Counsellors from Kamrup, Barpeta Unit 1, Bongaigaon, Dhubri unit II and Sonitpur districts with Chandana Bora the state coordinator, part of the C-NES- PFI family planning programme and Bhaskar Bhuyan, coordinator of the Brahmaputra Community Radio Station of C-NES. The meeting was attended by Managing Trustee of C-NES Sanjoy Hazarika. PMU members led by Dr. Dipankar Das CEO, and staff from C-NES,regional office, Guwahati. Participants present at the meeting shared their respective work plans, experiences, problems faced and how best to overcome them, engaging in dialogues with the MT and with each other.
Hazarika said that most of the team members work in their own areas, they work hard but often miss the larger picture- that they are here for a great journey and quoted C-NES' Mission Statement "C-NES recognizes the right of every individual in the region to live in dignity, peace and safety because only under such conditions can the quality of their lives be improved and their deepest aspirations met".He further mentioned that international organizations were coming to see C-NES' work and the organizations presence has been felt both nationally and internationally. This was a time therefore, for some introspection- about how the team members can give greater depth to the work that the organization does and its relevance in a changing world. On a nostalgic note he added "I see you here and it is like a dream come true. I never thought C-NES would grow so much, so fast, so widely. From 3 in 2004, we are nearly 150. There are challenges, we must overcome. We must make sure the ground and the ships below our feet remain solid even as we work together as a team" The Managing Trustee also spoke on proposed innovation and new avenues
Earlier the welcome address was delivered by Associate Programme Manager Manik Boruah while CEO Dr Das spoke about "Approach to Health 2014" including technical and administration challenges in running the Boat Clinic Programme . Programme Manager Ashok Rao shared the performance audit and spoke about the importance of performance self assessment. Communications Officer Bhaswati Goswami spoke about the importance of communications and reporting and shared the news about NRL agreeing to support C-NES with another Boat to be used for the Kamrup unit. The first boat donated by NRL 'SB Numali" is operating in Sonitpur district . There were detailed discussions on accounts and auditing by the Accounts staff – Moushumi Bora and Milan Nath. There were presentations from C-NES' allied projects- on the family planning project supported by Population Foundation of India by the Coordinator – Chandana Bora, the UNICEF supported Brahmaputra Community Radio Station by Bhaskar Bhuyan and the education outreach programme by Associate Programme Manager Manik Boruah.
---
Screening of Documentary "Where there are no roads "
C-NES documentary on the Boat Clinics "Where there are no Roads" was screened at Kochi Film Festival in February 2014. Director Maulee Senapati was present at the screening.
Screen Film Festival, Kochi, Kerela: A Report

Maulee Senapati

Maulee Senapati, director of the film addressing a gathering after the screening of the documentary on the Boat Clinics "Where there are no Roads" at Kochi, Kerela

For every filmmaker even if a non-believer, a visit to a good film festival is similar to what a pilgrimage means to an ardent believer of any particular faith. It is not surprising that the experience of attending a film festival held in Kerela can be rejuvenating to say the least. Since the partition it was Bengal which had paved the way for socially relevant cinema in India which later came to be known as parallel cinema in the country. The two greatest stalwarts of cinema in the country with one standing tall as a bright luminescent ray of world cinema, Satyajit, and the other a committed Marxist and a maverick genius, Ritwik Ghatak who adhered by the analytical-dialectical path far removed from the neo-realist style of Ray, remains ever immortal through their masterpieces numbering seventeen between the two maestros. Together they were the path breakers of Indian cinema which flourished in the diverse country's regions, from the Kutch to Odissa, to what is presently seeking renewed entity as Telengana, across the spiritually enlightened Deccan, to the then quaint yet ethnically rich Manipur and Assam. This surge of creative cinema's flourish, however, earned more fame and recognition outside the country then within a nation whose cinematic sensibilities have been largely influenced by what is churned out as commodities selling fantasy by Bombay under the brand Bollywood.

If Bengal chose not to be a part of the Bollywood bandwagons and instead paved the way for good cinema in the country, it is the other politically conscious state,Kerela,which has been firmly holding the decaying fort of regional cinema addressing native realities and what it has to engagingly offer as the subaltern. For this southern state rich in history and lore names like Adoor Gopalakrishnan, Aravindan, John Abraham, Shaji Karun are borne in the human mind with iconoclastic fervour, the reverence towards these names reflects the esteemed position aesthetically engaging cinema enjoys within collective consciousness despite globalization making space for emerging trends and interests with little or no concern towards what is socially relevant if not marketed in the form of a commodity.

The Script International Film Festival held at the port city of Kochi, Kerela, is still at a nascent stage trying to seek a footing so to say within the film festival circuit of the country. However, as they say in colloquial Assamese, "Jimoolabarhibataardupatoteisin" (morning shows the day), the fourth edition of Script showed promise of becoming a good film festival in the years to come. What stood out as the brightest lining of the film festival held with professional élan and meticulous management skills are some of the films screened. It is, after all, the films which lends character to a festival of films. Some of the entries in the last edition of the Script International Film Festival which I had attended with Where There Are No Roads screened at the Showcase Section (Non-competitive) of the film festival had entries by mostly young filmmakers from Kerela. Each of these work are remarkably matured piece of art holding promise for cinema of the southern state and the country. The promise presented through a bouquet of brilliantly treated films with human concern central to its themes is a continuity of what the great Adoor, a student of Ghatak at FTII and a master in his own right had dedicated himself to all his creative life as he continues to engage audience worldwide through his films, what the late John, another student of the genius Ghatak pursued with mad passion, and Aravindan, originally an illustrator, wove into the complex cinematic form exploring the labyrinth of the folk forms and aesthetics. It is this continuity of cinema's sensible sojourn in the south despite global challenges and its ills which ascertains what Script holds for the future, and what it can present to many of us committed to the human cause through good cinema: a reassuring platform for cinema from the country's regions without which cinema of India has little credence and meaning.
---
Media coverage
German online journal Apotheke Adhoc specializing on pharmacy and pharma topics covered Boat Clinic in April 2014. The link Google translation of the article in English:
http://translate.googleusercontent.com/translate_c?depth=1&nv=1&rurl=translate.google.com&sl=auto&tl=en&u=http://www.apotheke-adhoc.de/nachrichten/nachricht-detail/indien-aerzte-fahren-uebers-wasser/
---
Boat brings doctors and pharmacists
New Delhi – The boat that shuffles slowly over the Brahmaputra,brings an unusual crew: doctors and nurses, midwives and pharmacists, laboratory technicians, and social workers. You are on your way to one of the 2,500 islands that lie to the north east of India in the state of Assam. The approximately three million inhabitants of these islands have no electricity or toilets, no roads or hospitals. But for some years to come, the boat clinics that here are called "ships of hope."
The boat on the island Panchuchar. Drugs and devices unloaded, then the group marched about two miles to a school where they built a medical camp for a day. About the loudspeakers of the mosque their arrival is announced. Quick, women gather with screaming babies in their arms to the plastic tables to register. You get remedy for pneumonia, diabetes or diarrhea, all for free.
"At first, people were very skeptical," says the 28-year-old Taslima Khatun, a malnourished woman who has already brought four children to the world. Finally, some doctors are men – there are studies in her conservative society a problem. "But the village elders have noticed that the team takes a lot of trouble on themselves to take care of us. Now everyone comes to camp. "
Developed the boat clinics the Centre for North East Studies and Policy Research (C-NES), a non-governmental organization, together with the Indian Mission for Rural Health and the Government of the State of Assam. So far, so more than one million people have been treated, especially women and children.
---
Journalist visits camps
Ratnadip Choudhury, Principal Correspondent, Tehelka comes from the smallest Northeastern state of Tripura and has been reporting out of Northeast India for seven years, as of 2011. He specializes in conflict reporting and has a keen interest in India's eastern neighbours. Ratnadeep joined the Jorhat Boat Clinic team along with photojournalist Arkodipto Chakraborty and did a photostory on the Boat Clinic health outreach programme. Follows his report:
72 hours in the Boat clinic was enlightening

Boat clinic run by Cnes has been something I have been hearing for years, when I was in New Delhi working for an English news channel. At that time wanted to do a Documentary on it, but somehow could not manage. After I was posted as the Northeast India Correspondent of tehelka in 2011, I felt thi is one indepth story I must do, and wanted to do it in the form of photo essay. There comes my friend, freelance photographer Arkadripta chakraborty. He pushed me on this, we got in touch with the Cnes office at Guwahati and finally we were on the boat clinic with the Jorhat district team led by Riturekha Baruah.

Boat clinic – a boat with doctors, nurses, paramedics, with a mobile lab, all mounted on a boat with expert crew, traverses different channels on the mighty Brahmaputra which divide Assam almost into two halves. These boats go where there are no roads, where even there are no regular ferry services, to the remotest, inaccessible Islands, where humanity is settled like small dots on the mighty red river. We were on board to see for ourselves how the boat clinic works, a day in life of this initiative and bring back the stories to people as working Journalist.

The Jorhat boat clinic team with its 16 members got us surprised every now and then. These were some young Indian, all qualified in their own filed , young and dynamic yet they chose to devote their time and energy to work for the most down trodden, an idea which is very difficult to think in these days of smart phones and macbooks, where every youth aspire to be rich and stay in a metropolitan. And it was not that these youths didinot have a choice of job, but some people still have the passion to serve mankind and create quality living, members of Cnes and boat clinic are doing that.

I was awestruck by their dedication. The crew would be up in right to set sail , as the team will reach the location, there would happily walk for hours to entire the remote village, call every one out of their homes, visit every house check the ailing patients. For the villagers they are incarnation of the all mighty. Both of us, remained testimony how the team encountered a medical emergency during a routine camp, it was Kongkurmukh Island, a pregnant lady was helpless with her labour pain, the family did not have resources to hire a boat and take her to Jorhat , a five hours boat ride, as soon s the team arrived , they were told and the doctors and other stuffs rushed and saved the life of the women and the child through a safe delivery , this incident actually sums up what yeomen service Cnes and its boat clinic initiative is doing in Assam.

Ratnadip Choudhury
---
The Times of India reports on the upcoming Hospital ship of C-NES
Health Care comes in the form of Floating hospital

Gaurav Das, TOI ,Guwahati

"For people living on char (river islands) it has always been a dream to have a hospital nearby. That dream could soon come true in the form of a 24X 7 Floating Hospital on the Brahmaputra. In the first of its kind initiative in the state, the hospital will be on a ship that is presently being built at the cost of a few crores. It will take close to two years for the floating hospital to start operations. The floating hospital which is being funded by the north east council through he Assam govt will cater to the needs of about 6.4 lakh people in the lower Assam region. The Centre for North East studies and Policy Research is spearheading the movement" .
---
From the Field:
Ashok Rao, Programme Manager
17 No.Besamara villages, Salmara, Majuli
Jorhat, 10th March 2014. After travelling for more than an hour from Nimati ghat,the Boat Clinic Boat SB Nahor along with the medical team reached the banks of Besamora village on the upper reaches of Majuli island. The entire bank of the river where the boat docked looked ravaged, having been dugout for a special quality of clay which the villagers used for the pottery business. The dugout clay was stacked uniformly in heaps all over the bank line. The question that struck my mind instantly was, why? Knowing well that flood waters had caused great loss to the island due to erosion for decades. A distance ahead I could see the spur built with stone boulders (partly damaged during last monsoon floods) and concrete post porcupine design (to control erosion) erected at a few places which now stands loosely entangled.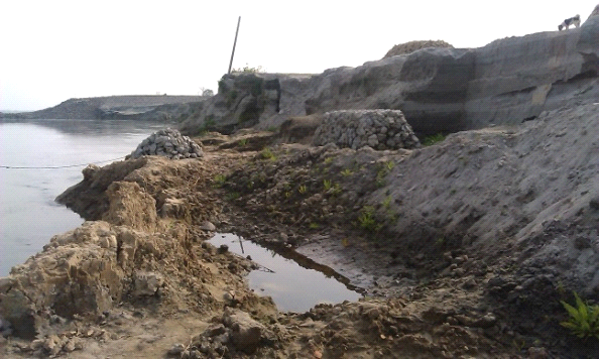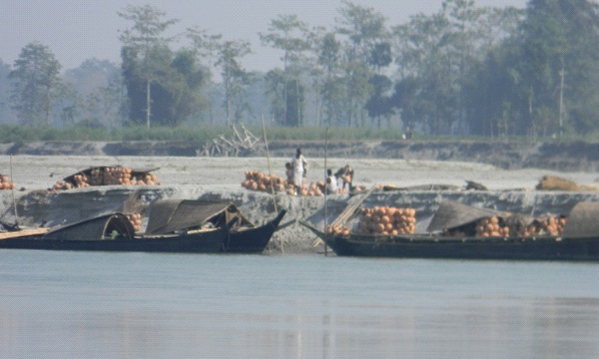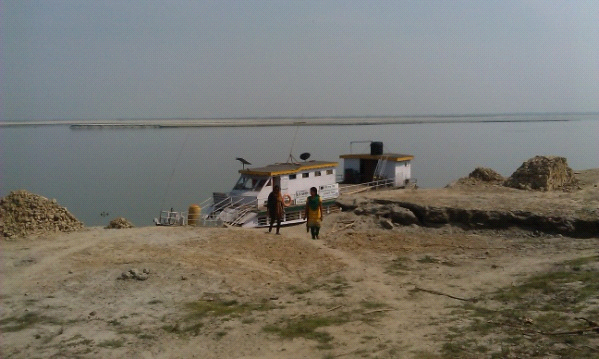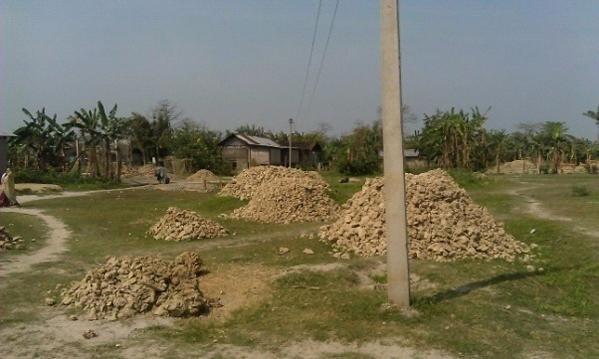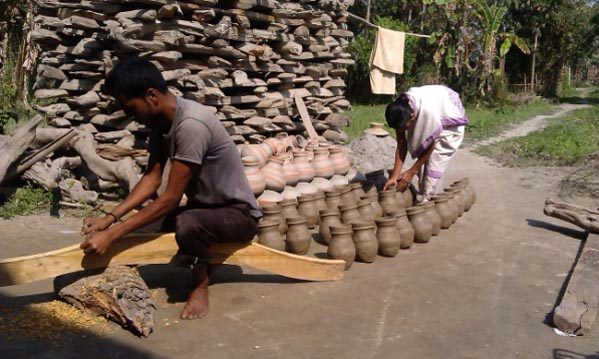 The health camp was arranged in the LP school which was built on stilts. Women folk who were waiting since morning along with 3 ASHA workers and their supervisor were the first to register. They were grateful that Boat Clinic is visiting them regularly and providing them health checkup and medicines. Anjana Bhuyan the ASHA supervisor has 11 ASHA's under her and all of them have received the five module training. Replenishment of ASHA kit is not regular and incentives were small amounts which they collect after 4/5 months of accumulation. The Boat Clinic team performed 75 GHC, 5 ANC and 13 laboratory tests; Routine Immunization is not done by the Boat Clinic ANM at this centre as responsibility is entrusted to the local ANM by the Block PHC.
The village had houses built mostly on raised platforms and wooden stilts. The people here have been living in this part of the world famous Majuli island since 3 to 4 generations and narrates that then Majuli was much closer to Jorhat and Sibsagar and the river used to flow mainly on the north. It was when the river started to change its course that there was heavy loss of land due to erosion. "The village originally was 3 to 5 km to the south from where it stands today" said Titaram Chamuah an eighty year old, pointing his finger towards the middle of the mighty Brahmaputra. Every monsoon is a threat to them. More than 300 families from the village have moved to safer location. Tilok Chamuah, who had been striving to establish himself, had attended a few government sponsored training programs on skill development in bamboo and pottery industry but due to financial constrains he is not able to expand the small cottage industry that he inherited. He informs that as they do not have any land document, banks were not willing to give them loan. Chamuah has now opted to work for an NGO in order to support his family.
The water resource department and the district administration had banned the villagers from cutting soil for clay on the river bank. Section 144 has been imposed in the entire stretch of the bank line area. Pottery the only livelihood source for many families and has been practiced religiously for ages. "Imposing a ban from collecting clay from the river bank is direct injustice by the administration as no alternative is provided for around 300 families in the area who have been depending on this cottage industry for ages" said a senior resident. The villagers informed that there were many meetings which were organized by the local administration and political leaders where it was promised to provide an alternative location or plot of land from where they could excavate the required quality clay but the suggestion (though not fulfilled) is not viable as the special clay which they excavate is available only after digging 10 to 20 feet deep on the river bank which was safer and convenient.
As patients started to come, I wanted to know and understand more about the people and the village. Behind the school, I saw a young man working on a piece of wood (he was designing the head frame of a wooden bed) and besides him was an elderly lady who was lining up raw mud pots. Earthen pot making by these people is unique as they do not use the wheel which is normally seen in other parts of the country. With their bare hands they mould the beaten clay at given intervals while allowing to dry under the sun to get the fine pot shape and then place them inside the oven (built with mud) which is heated using drift wood gathered from the river mainly during the flooding season.
Men from this community also posses special skills in constructing wooden boats. Salmora boat making carpenters are greatly admired, though slowly the number of men with the skill is reducing. Young men and women are getting educated and are moving out from the village to towns and cities for better job and business opportunities. The ones who have stayed back are shifting to contractual business and daily wage jobs. The once green fertile soil had turned unproductive by huge sand deposits during floods. The villagers were hopeful that with the construction of spurs/bunds and erection of concrete porcupine pillars their plight with flooding would be solved. Instead it has caused more land erosion and if this continues they will have no other alternative but to look for other alternative location and occupation and give up the single most famed pottery heritage of Majuli. It was heartening to listen to Tilok Chamuah narrating an incident during the onset of the floods last monsoon. He was in mainland Jorhat when flood waters had entered their village. His wife with their 2 little children informed him on the mobile that the whole village was submerged and the water level was still rising reaching the floor of their home built on wooden stilts (5 feet from the ground).  Chamuah instructed his wife to place a table on the wooden bed and ensure that the children are kept warm. It was a hopeless situation for the husband who was far away from the family. The only connectivity was the mobile phone which subsequently switched off. Chamuah could only pray to God Almighty to keep his family safe. As hours of uncertainty passed the children started crying for food and the mother had no means to cook, the only solace was a handful of beaten rice which she managed to save. Families who had boats moved to the high rise embankment braving the fierce water current while others waited in their partly submerged homes for God and nature to be kind.
The Boat Clinic which conducts regular health camps in these remote areas has been a regular link not only for health and awareness but has also developed a bonding with the community. It was noticed that the older folk were much concerned with what their future holds. Their concerns were legitimate and needs intervention and support if the famed pottery industry is to sustain and survive. A study if conducted could bring out a sustainable means which could not only retain the cultural heritage of this land but at the same time create awareness and find ways to protect the island from erosion. The study would also open windows to lucrative avenues available for the younger generation to adopt while retaining and maintaining the age old skills inherited for generations. Riturekha Baruah, DPO, Boat Clinic who was present throughout the discussions had shown keen interest to do the study. The study will help understand the pros and cons, highlighting need in the socio economic context and help develop a project proposal which could be adopted in order to retain, strengthen and sustain the famed heritage pottery industry of the world famous MAJULI Island.
---
Adult JE Vaccination Drive 
A report by Arup Kumar Saikia, DPO, Dibrugarh
The preventive measures for common diseases are a vital a part of health education, an integral part of health services. Vector borne diseases are common in tropical and sub-tropical climatic zones. With the onset of summer and monsoons the entire north east Indian states falling under such a climatic zone, becomes prone to different types of vector born diseases. Though malaria is common in most of the hilly and foot hill areas of the region, it occurs in the plains as well. While Japanese encephalitis has appeared in Assam in sporadic or epidemic forms since 1976, five upper Assam districts – Sivasagar, Jorhat, Golaghat, Dibrugarh and Tinsukia – have been the most affected in recent years. The Govt of Assam has announced adult JE vaccination drive in these vulnerable districts and Dibrugarh district being one of the five,the Lahoal block PHC requested the district Boat clinic unit to cover the targeted river island population under the coverage area of Lahoal BPHC. The boat clinic unit Dibrugarh accordingly planned the schedule to cover maximum population along with the regular health sessions.
The team had undergone a brief orientation on JE vaccine programme at Lahoal block PHC. One such camp was at Balisapori whose location is such that a separate trip has to be planned to reach the sapori(river island) as there are no other saporis in the direction. Most adult males from the sapori move around nearby islands and main land areas in search of livelihood. To cover all adult population the boat clinic team decided to attend the whole day at the camp site. The team arranged the trip so that other two camps could be covered in this trip. The team reached Balichapori at 12 PM. Two separate tents were pitched in the river bank so that both the regular OPD, immunization, ANC and PNC could be attended uninterruptedly. The ASHA attended the camp and helped the team particularly in the vaccination session. The team stayed the night in the sapori is chapories and asked the people those attended the camp to inform all the people those come under the target group for JE vaccine that the team will administer JE vaccine till 6.30 AM of the following day.The team could cover 12 camps and covered 758 persons under adult JE vaccination besides attending to 605 patients in the OPD sessions, 23 children under routine immunization, , administering Vitamin A to 36 children and conducted , 25 ANC and 2 PNCs. Two discussion sessions were conducted apart from campaign programmes for JE vaccination.
---
JE Camp at Jorhat saporis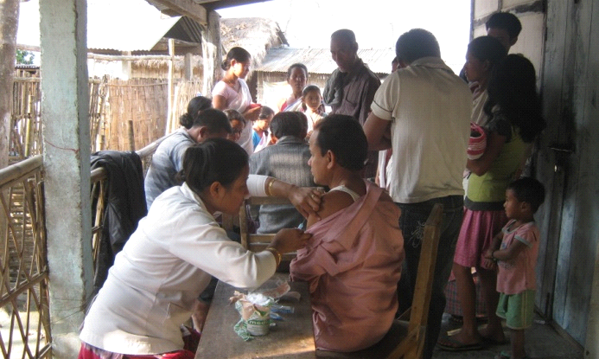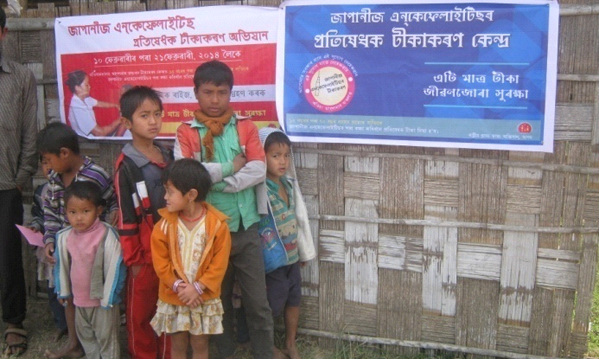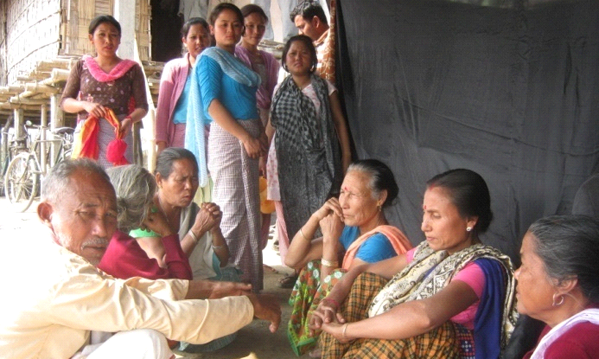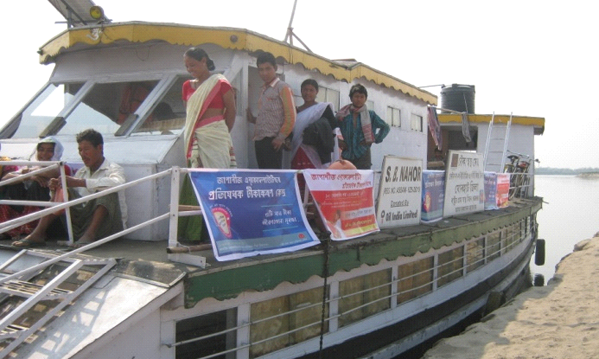 The Jorhat health team on board Boat Clinic "Nahar" conducted 18 camps out of which 7 were for Japanese Encephalitis Adult vaccination programme. The team also organized six mega awareness camp at Kerker, Kankurmukh, Baruah Chuk, Kachikata and Kathsapori on JE and its prevention. There were 625 adult beneficiaries of J. E vaccination.
---
Nalbari Vaccination and Pulse Polio
As part of 'National Immunization Day' and Intensive Pulse Polio Immunization Program on 19th January 2014 and 23rd Feb, 2014 children up to 5 years were administered two drops of Oral Polio Vaccine (OPV) each at IPPI centres followed by house to house visit by the Nalbari Boat Clinic team to track and vaccinate those who missed out in the Boat Clinic camps.The Nalbari team also conducted the Intensive Pulse Polio Immunization Program at Sahabuddin supa on 23rd February 2014 where 87 Children were immunized .
---
 Bongaigaon : Successful Counseling
At a recent health camp at Bongaigaon's Kheluapara village a woman attended the camp for treatment of persistent cough and cold. She was carrying a child who was supposed to get vaccinated that day. But as her husband was against this, she opted out. The health team spoke to her about the importance of immunizing her child. The Medical Officer along with the DPO Monjur Mondal accompanied the woman to her house and duly explained to her husband about the benefits of vaccination, the probable side effects like slight fever which was not at all harmful for the child. Ultimately the person understood and agreed to get his child vaccinated.
---
Glimpses from C-NES' Brahmaputra Radio Station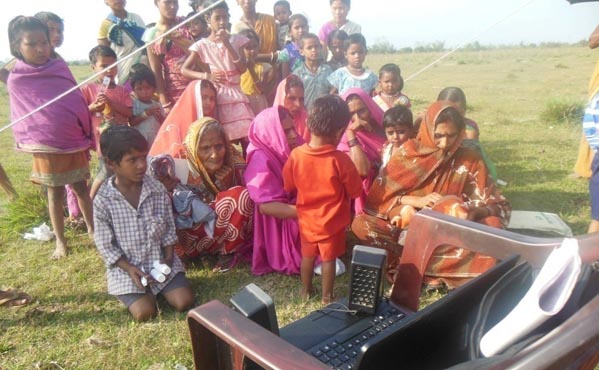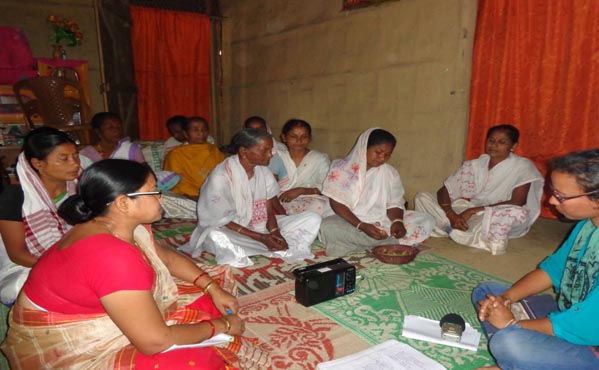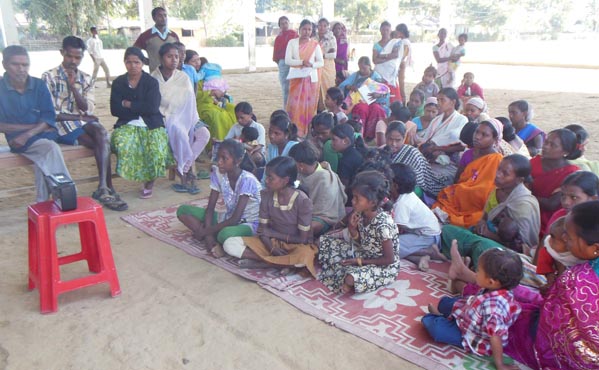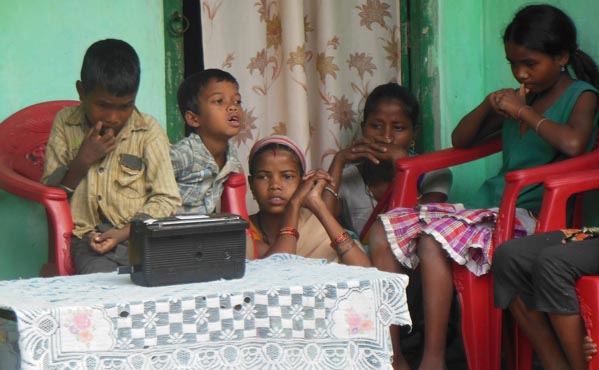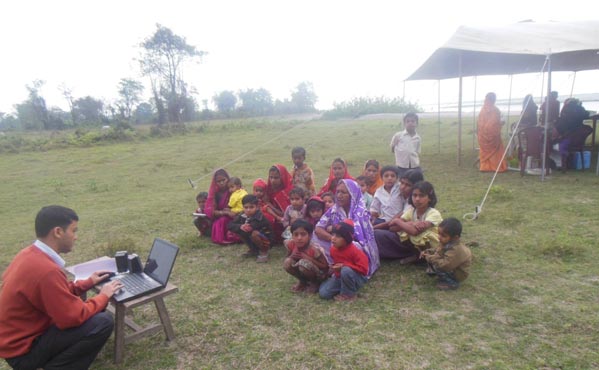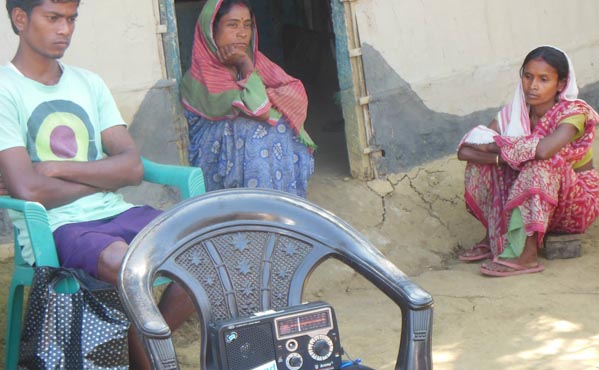 C-NES in collaboration with UNICEF, Assam has set up a Community Radio Station (CRS), at Maijan, Dibrugarh, on the banks of the Brahmaputra. Popularly defined as a "radio for the people, of the people and by the people", community radio has democratized mass media the world over. The radio station will benefit the communities inhabiting the nearby Brahmaputra islands as well as the tea tribe communities inhabiting the river banks. The radio station is expected to reach out to over 1,2 lakh people within a 15 km radius. The Radio Station continues with narrow casting — recording of interviews, music and local information and playing back to villagers for their views and comments. A significant part of this radio station is that all the reporters and programmers are local residents from different communities but who have been trained in journalism and radio reporting, editing and broadcast without having a media background. The programmes include a mix of pre-recorded and live programming on a range of issues, ranging from health, education and alcohol abuse to sanitation, drinking water and the need for a nutritional diet as well as developing a habit of savings.
"We want to go beyond the format of health and education bulletins to innovative ideas and encouraging local talent in music, sports and other fields, as is happening in the dynamic team at BCRS, under Coordinator Bhaskar Bhuyan," said Sanjoy Hazarika, Managing Trustee, C-NES. "The BCRS will provide equally critical services through the air waves as the boat clinics do on water, for the marginalized and inaccessible. This is a team which has made a dream come true; their lack of formal training in journalism is an asset and not a hurdle as they set about their challenging tasks" he further added.
Radio Brahmaputra on Times of India:
http://timesofindia.indiatimes.com/city/guwahati/Health-bulletins-in-5-languages-with-community-radio-station/articleshow/31385941.cms
---
 Family Planning initiatives (supported by PFI)
During the quarter January –March 2014, two awareness camps were conducted in Bongaigaon and Morigaon Districts. In Bongaigaon, the camp was organized on 12th January 2014, through the Boat Clinic Unit at Dogasipara L.P. School in Dogasipara village focusing on Family Planning and Reproductive Health. A total of 135 women and men attended the programme. In Morigaon, the programme was held on 25th March 2014 in Meetmari/kisamkuri char. Around 115 participants attended the programme.
Two capacity building trainings for ASHAs and ANMs on family planning and reproductive health issues were conducted in the Districts of Dhubri and Barpeta. In Dhubri the training was organized at the Town Hotel on 18th and 19th of March 2014 in presence of the officials from NRHM and District Health Society. The SA&FPC and DPOs of both the Boat Clinic units of Dhubri were present in the training. A number of participants including 23 ASHAs, 2 ANMs and 3 CW from both units took part in the two day programme. The other training was organized at the NRHM training hall in Barpeta district on 20th and 21st March 2014. The SA&FPC and DPOs of both the Barpeta Boat Clinic Units also participated in the training. 32 ASHAs, 3 ANMs from both units along with some other members from district PMU of NRHM took part in the two day program.
Visible result after implementing Phase II of PFI project
(June 2013 to March 2014)
| | | |
| --- | --- | --- |
| Districts | IUCD | LS |
| Barpeta | 2 | 45 |
| Dhubri | 4 | 15 |
| Bongaigaon | 49 | 8 |
| Sonitpur | 0 | 3 |
| Total | 55 | 71 |
---
Laparoscopy
The Dhubri Baoat Clinic Unit II conducted 6 Laparoscopy in two chars along with 2 IUCDs after successfully motivating and counseling the beneficiaries, most of whom were in child bearing years – 30 to 40 years . The DPO Sultan Nekib and the entire team with the district Family Planning Counselor Mollah Md Jinnah has been focusing on such successful family planning initiatives.
---
Documentary on Family Planning screened at Dhubri Boat Clinic Unit I
The Dhubri Boat Clinic Unit I screened "Tring Tring", the short documentary on family planning as part of C-NES' family planning programme supported by the Population Foundation of India at Bhatia in two char villages – Bamundangarchar and Mohorirchar Berabhanga on 20th January. At Bamundanga it was screened at the local LP School where more than 150 villagers were present. After the film the DPO Mehebub Alom Hazarika interacted with the villagers and got positive feedback from them on this sensitive issue dominated by the minority community. Regular awareness sessions about the benefits to the mother and child and the family as a whole by adopting family planning measures by the Boat Clinic team has brought in a desired change in the community. The community workers explained the different family planning methods available.at the health camp. At Mohorirchar the screening was done in the evening along the river bank where the Boat Clinic was anchored. The projector screen was placed at the deck of vessel SB Rustam and the villagers enjoyed the film standing by the river bank.
---
A Boat Baby. The namesake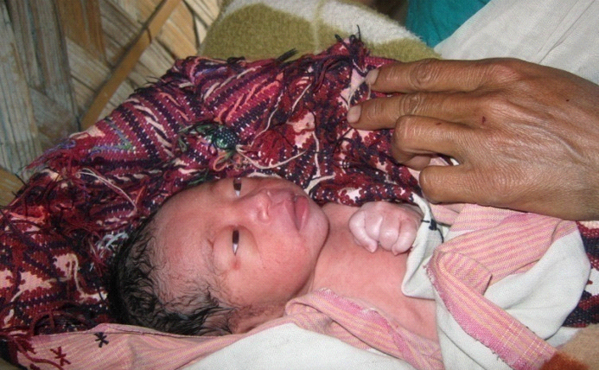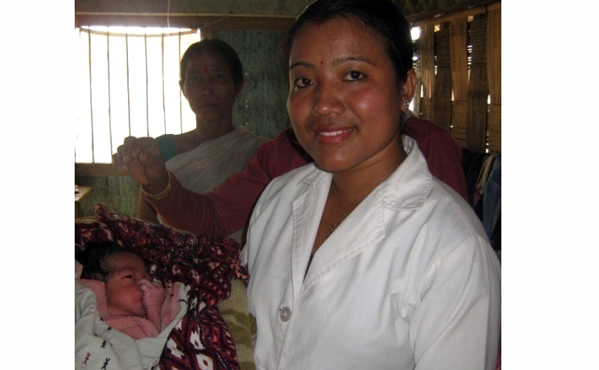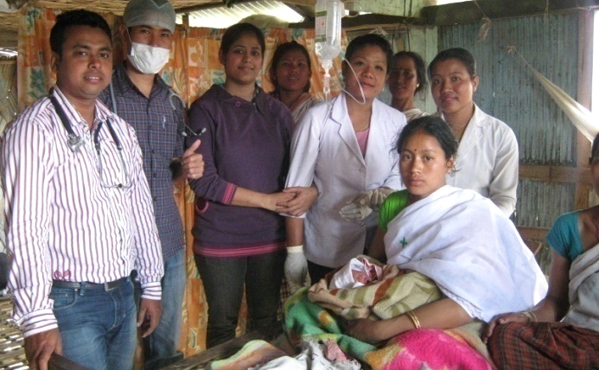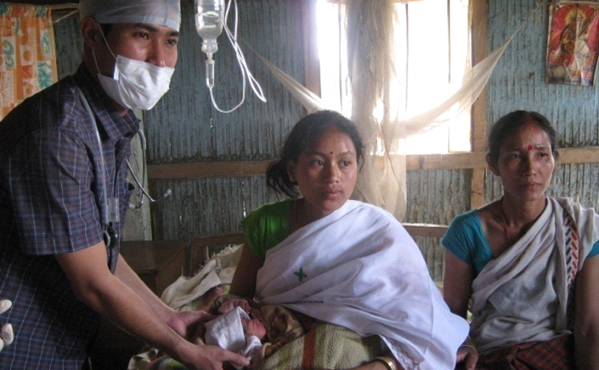 A baby was delivered at Jorhat districts Kankurmukh sapori on 29th of January,2013. As the camp was going on, a villager suddenly came to the boat and informed the team that his married daughter who had come visiting her parents from Narayanpur village to perform some ANC related rituals had started her labour pain.He wanted the health teams help. Immediately Dr Pronab Pegu, Dr Debanga Hazarika, GNM Elizabeth Kom, ANN Juli Phukan, DPO Riturekha Baruah with community workers went to his home with delivery kit and medicines. The camp was stalled for a while. Photograher Arkadripta Chakrabarti and journalist Ratnadeep Choudhury who were with the health team says they felt "blessed" to witness such a real life challenge the team is able to successfully tackle. Soon after the health team reached, a male baby was delivered safely. The mother Anita Pegu was healthy and strong. Dr. Pronab Pegu was happy. The baby was named Pronab- the doctors namesake.
This was fifteenth successful, emergency delivery conducted on the boat clinics till date – Five in Dibrugarh, two in Dhemaji, two in Barpeta and six in Jorhat. Providing ANC, PNC checkups along with advocating institutional deliveries has been priority with all the health teams especially crucial for a state like Assam which has India's worst Maternal Mortality rate at 347, higher than Bihar or Uttar Pradesh, and a high Infant Mortality Rate
---
 More good news