By the Brahmaputra: Vol 46
By the Brahmaputra (Vol: 46)
C-NES Newsletter
(For the Quarter April – June 2019)
Visitors from USAID and SAATHII
A team comprising officials from USAID and SAATHII (Solidarity and Action Against the HIV Infection in India) visited the Brahmaputra Community Radio Station (BCRS) on 9th May 2019 and Jorhat Boat Clinic on 11th May 2019. The visit was undertaken to see C-NES' interventions in health, sanitation and community media among the marginalized communities. Program Manager, Ashok Rao and Associate Program Manager, Manik Boruah accompanied the team. The USAID team included Ramona El Hamzaoui, Deputy Director; Xerses Sidhwa, Director, Health Office, both from US Embassy, New Delhi and Amy Fowler from USA. The SAATHII team comprised of Subhasree Raghaban, President, SAATHII, Dr Meeta Maher and three state level officials of SAATHI.
The BCRS team organized a narrowcasting program in North Line ICDS center of Maijan TE on 9th May 2019 in which the radio team demonstrated how they conduct field interventions among different listeners group. The visitors expressed satisfaction with the initiatives adopted by the station towards betterment of the grass root communities.On 11th May, the Jorhat Boat Clinic team picked up the team from Nimati Ghat and shown them the activities of Boat Clinic in Salmara village under Kamalabari BPHC of Majuli. The visitors walked around the village and observed handmade earthen pots by women, boat making and handlooms products made by the island dwellers as the village ASHA Bulu Kalita led them around the village. Hand made pottery items were shown as well as traditional weaving by women.They mentioned that visiting Boat Clinic and Majuli will be unforgettable experience for them.
---
Visitor on Kamrup Boat Clinic

Philip Forth, Chair of the Board of the Constellation, a Belgian organization, which supports local responses around the world, visited the Kamrup Boat Clinic in April 2019. Constellation has worked to stimulate and connect communities through the SALT (Stimulate, Appreciate, Learn and Transfer) approach initially to respond to the HIV/AIDS pandemic. The organization now celebrates the action of communities in response to a diverse set of life challenges – Child and maternal health, village life, sanitation, hygiene, nutrition, education and aging with dignity. It encourages people to dream, to build on their strengths and develop their own solutions to challenges. In Assam this approach of community mobilization has been working successfully in specific villages in lower Assam.
---
C-NES Participation
(Left)AshokRao,Program Manager and Dr C. R. Hira, Technical Consultant,C-NES at the consultation on nutrition on 30th April at Guwahati organized by Voluntary Health Association Assam (VHAA) in collaboration with Civic Engagement Alliance (CEA). A series of seminars and consultations on Nutrition for infants and young children were organized by Centre for Sustainable Development Group, Assam in collaboration with Coalition for Food and Nutrition Security between 26th April to 17th May 2019 at the Assam Administrative Staff College. (Right) Programme Manager Ashok Rao and Technical Consultant Dr CR Hira at a Policy Seminar on capacity building of frontline workers at Assam Administrative Staff College, Guwahati, on 17th May 2019. Improving child nutrition, health and early childhood development were the focus areas. Organized by Transformation & Development Dept. GoA in collaboration with Center for Sustainable Development Goals ( CSDG) and Coalition for food & nutrition security (CFNS), Jishnu Baruah, IAS, Addl. Chief Secretary, Social Welfare Dept. GoA was the chief guest of the seminar .
---
Documentary Shooting
The Boat Clinics at Dibrugarh and Sonitpur were covered for a documentary series "A Medical Journey" from 13th to 20th May, 2019. The series is about healthcare delivery in different milieus – each representing a unique challenge and offering valuable insight into the communities and spaces that they work in. The Boat Clinic episode would focus on providing the audience an insight into the ecosystem and lives of island dwellers along the Brahmaputra and how the Boat Clinics have fast emerged as a lifeline for them. At the same time, the film would look beyond, and see what it takes to get a clinic such as this up and running. The series is being produced by August Pictures Pvt Ltd (www.augustpictures.com.sg). Each episode is roughly 45minutes in duration. From 13th to the 16th of May the shooting was at the Dibrugarh river islands which the boat clinic services and from the 17th to 20th May 2019, the Boat Clinic at Sonitpur was covered. C-NES' Communications Officer Bhaswati Goswami accompanied the visitors and the health team to Tintikia char. Regular awareness sessions on hand washing, personal hygiene, family planning and others were conducted The district Joint Director Health Services Dr. Krishna Kemprai accompanied the team on the 19th May. Prime importance was given on permanent family planning methods adopted by women.
---
In Appreciation

The recent visit by the documentation team from Singapore for a film on the Boat Clinics have brought out positive stories like this one. 72 year old P Bhattacharya from Dibrugarh's Mesaki chapori, originally from W Bengal, could not complete his medical studies years ago,due to financial problems.That has not dampened his spirit. He is well informed about national and international developments through books and magazines. He often visits the Dibrugarh boat clinic conducted health camps to collect medicines for his asthmatic problems. He is an effective voluntary campaigner of routine immunizations of children and ante and post natal check ups of pregnant women. The film crew observed his enthusiastic involvement in the camps and his keen thirst for knowledge. They sent a three band Philips radio as gift to a delighted Bhattacharya who proudly shows it to everyone visiting his tiny grocery store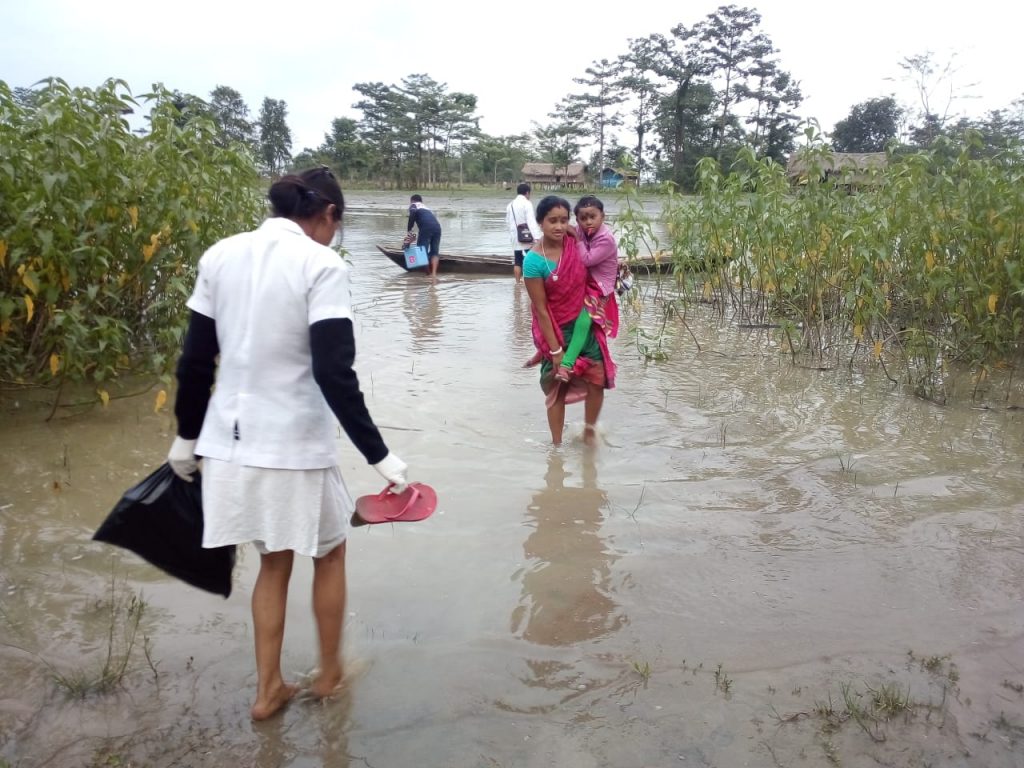 The Joint Director of health services, Dibrugarh interacting with ANMs and the boat clinic laboratory technician while the SDM&HO of Lahoal BPHC (standing behind) interacts with Ashas on 16th May 2019. The officials accompanied the Dibrugarh Boat Clinic team to the health camp. (Right )Community worker demonstrating iodine salt testing to ASHAs at Dibrugarh's Charkhulia village
---
Health camp at flooded Dibrugarh's Karmichuk, 27th June 2019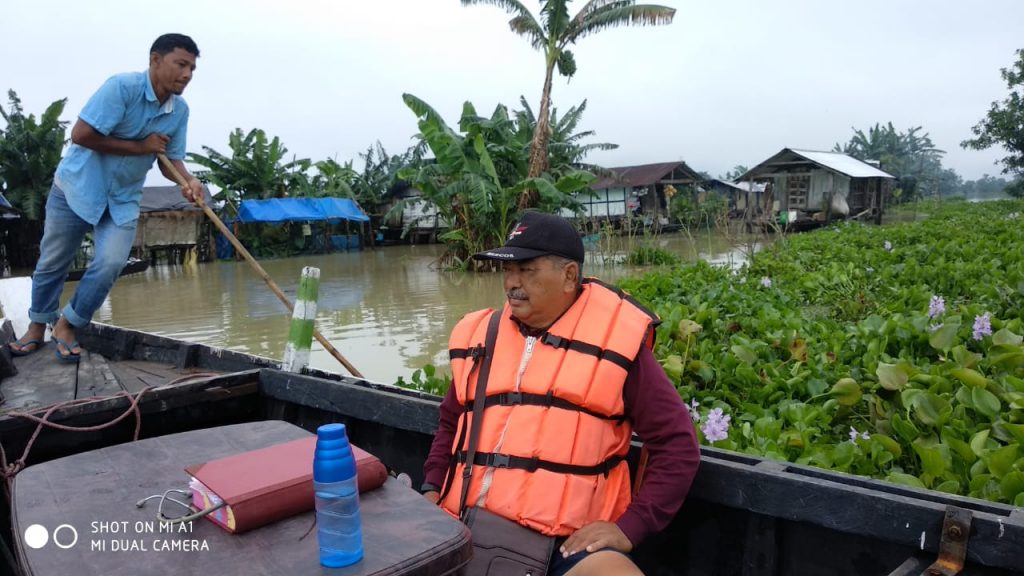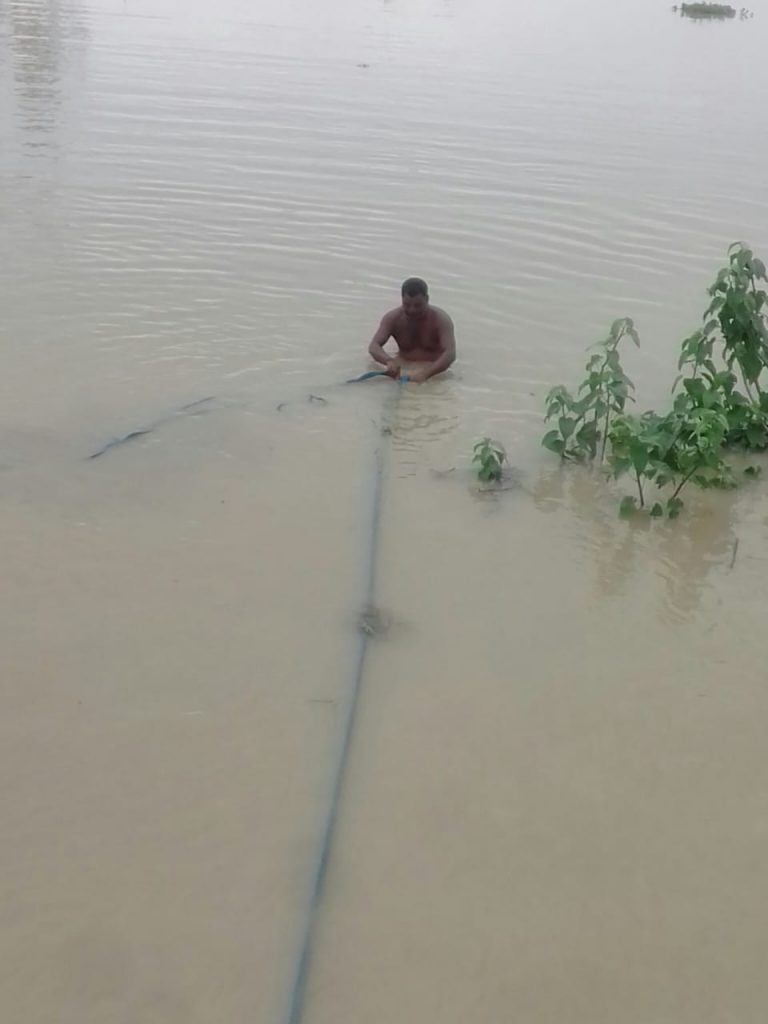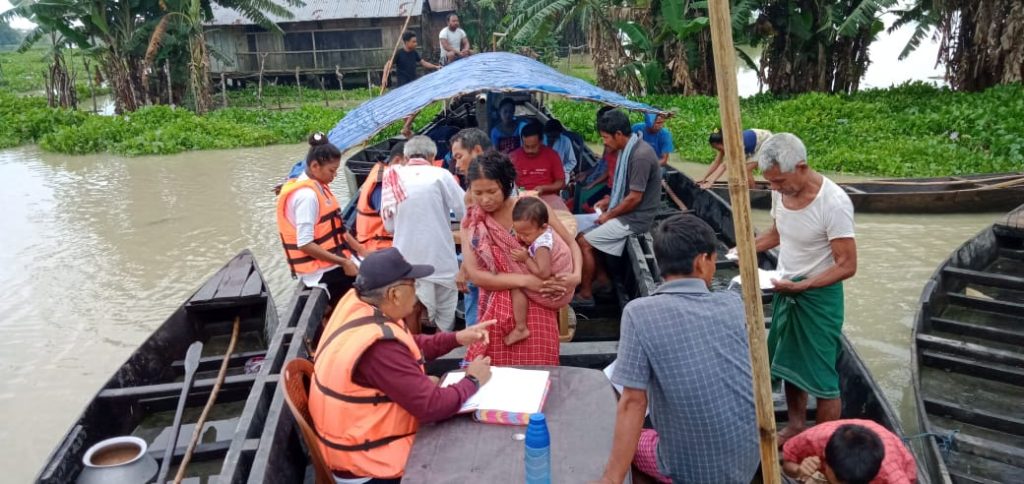 The boat trying to locate a suitable place for the camp at Karmichuk(left)Boat crew Vinit Bhutan dislodging the anchor before moving the boat to Kuligaon. The anchor had to be fixed under water as there was no any high ground.
On a rainy morning, nurses on way for home visits to cover RI and ANC at Dibrugarh's flooded Chakia island village on 2nd July 2019.
Dr Rachana Kathuria and Dr SR Thosar, Surveilance Medical Officers(SMOs) of the World Health Organization (WHO) visited Dibrugarh Boat Clinic on 10th June 2019 to review the vaccination status in riverine areas.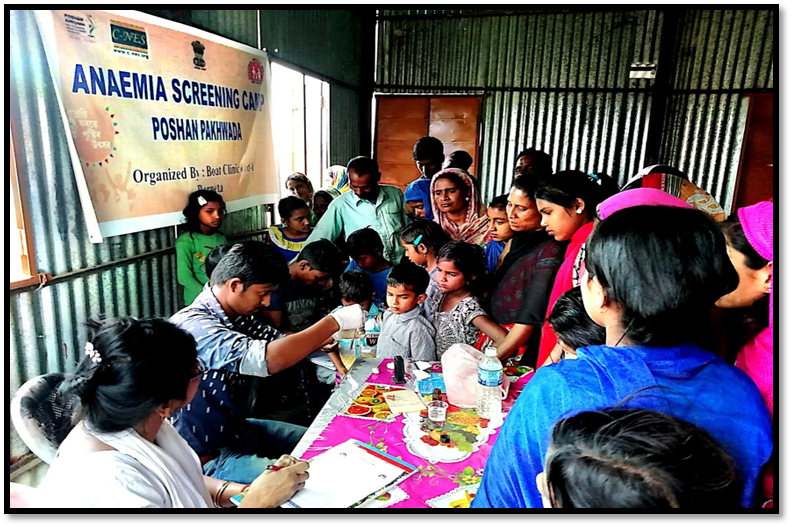 A healthy new born arrived at Sonitpur's Tinikur char on 8th April 2019.This was the first ever (emergency)delivery conducted by the district's Boat Clinic team led by the Medical Officer Dr Nasir Hassan and ANMs Hasena Banu and Bidyabati Das while conducting a regular camp. The team rushed to the home of the beneficiary when informed by the ASHA. DPO Mousumi Dowerah always a support, flashed on light from her mobile phone during the delivery which took over 3 hours.Post delivery the male baby was given necessary care and OPV, BCG injected. A strenuous day ended with utmost satisfaction.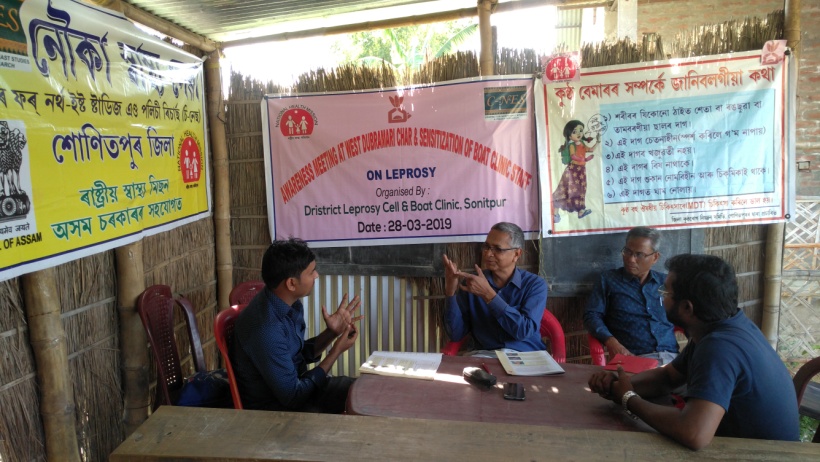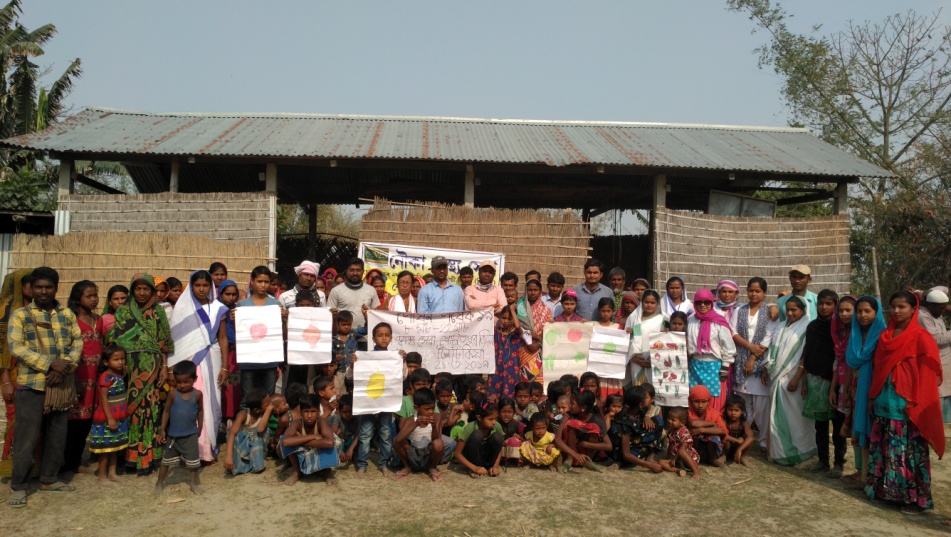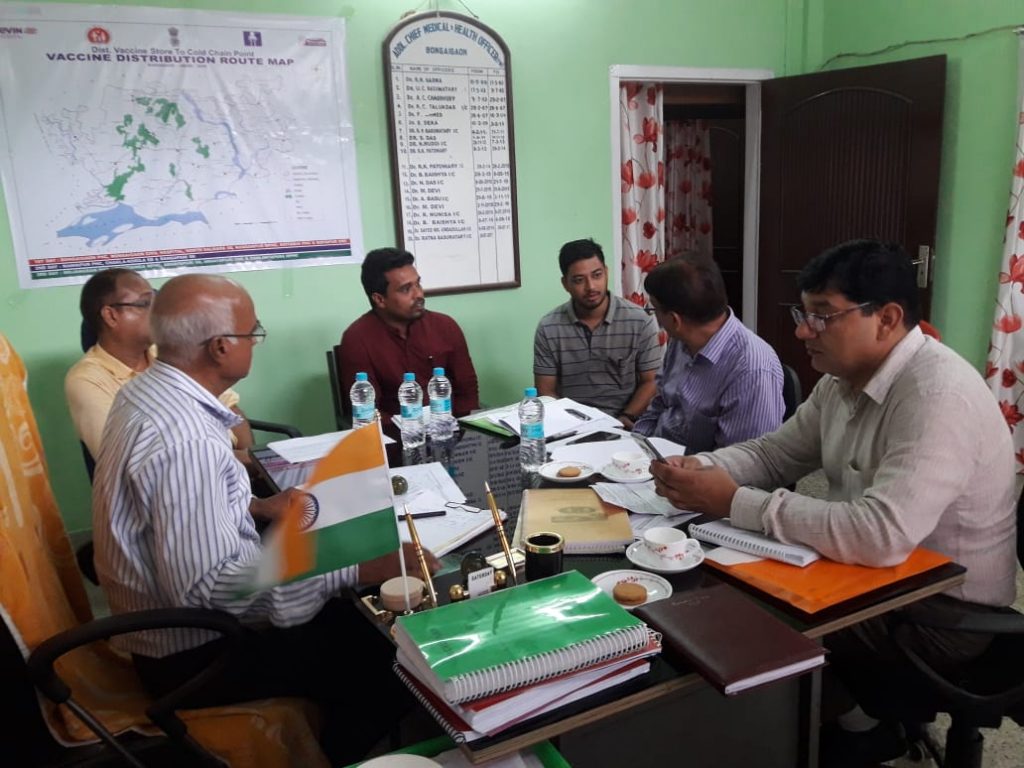 The Goalpara health team on way to the camp site in March 2019
An awareness meeting and street play on TB organized by the Lakhimpur Boat Clinic at Naali Avanori Higher Secondary school, Mortonsapori. The school teachers and over 350 students participated. The script was written by Dr. Jagdish Goswami, TB office, Lakhimpur district.The play was performed by a group named Suraksh.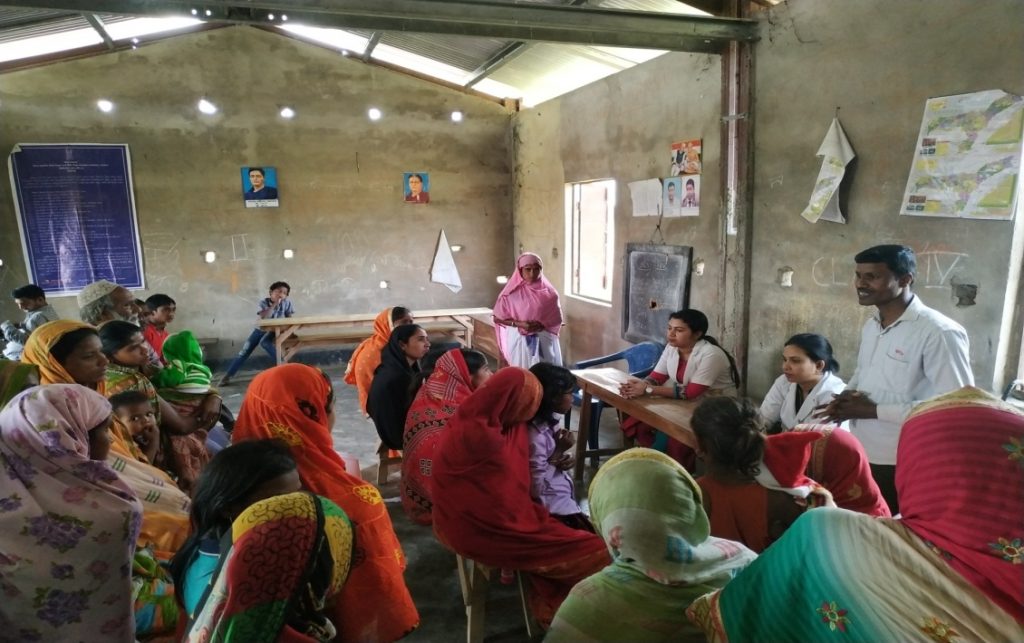 Deworming campaign by Kamrup Boat Clinic Unit in February 2019 (Right) Women members of the health team getting onboard SB Kaliyani, the Kamrup Boat Clinic on way to a health camp. This boat has been donated to C-NES by Numaligarh Refineries Limited as part of it CSR initiative
Awareness Programmes conducted by the Dhemaji Boat Clinic Unit at Amarpur Village on the occasion of the "World Health Day on 7th April 2019.
The Barpeta Unit II health team using buffalo carts from the river back to conduct camps at a few island village located in the interior areas of the island villages in February 2019.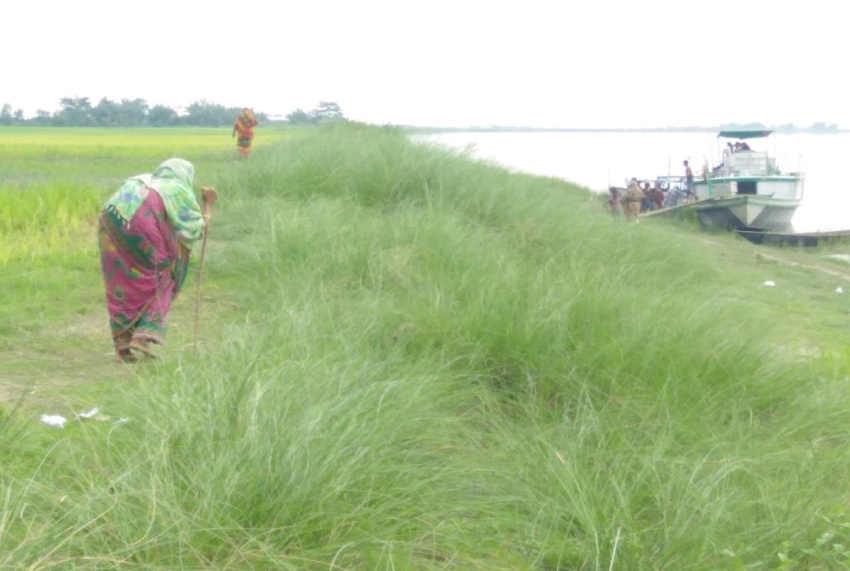 A Tinsukia Boat Clinic health camps in April 2019(Right) Awareness session on "World Malaria Day"
---
IDCF observed by Boat Clinic health teams
IDCF programme being conducted by the Barpeta Boat Clinic Unit II on May 28th 2019
The Boat Clinic units actively participated in the Intensified Diarrhoea Control Fortnight. IDCF consists of a set of activities to be implemented in an intensified manner for prevention and control of deaths due to dehydration from diarrhoea across the country. These activities mainly include- intensification of advocacy & awareness generation activities for diarrhoea management, strengthening service provision for diarrhoea case management, establishment of ORS-Zinc corners, prepositioning of ORS by ASHA in households with under-five children and awareness generation activities for hygiene and sanitation.The goal of IDCF is to attain zero child deaths due to childhood diarrhoea.The focus is on delivery of simple proven interventions that have large impact towards control of childhood diarrhoeal morbidity and mortality.
---
World Health Day
Villagers interacting with the health officials
World Health Day was celebrated by the Jorhat Boat Clinic Unit on 7th April 2019 in association with Jorhat district health society and district officials from National Health Mission. The Medical Officer from Kamalabari PHC and Garmurh CHC attended the camp and checked all patients. A village meeting was arranged where problems of health issues were discussed. Villagers took active part in the meeting, the topic of the year being Universal Health coverage. The Joint Director Dr. Amrit Kumar Saikia, SDM&HO Dr. Sashi Phukan along with others were present and interacted with the community. Health checkups was also done by them.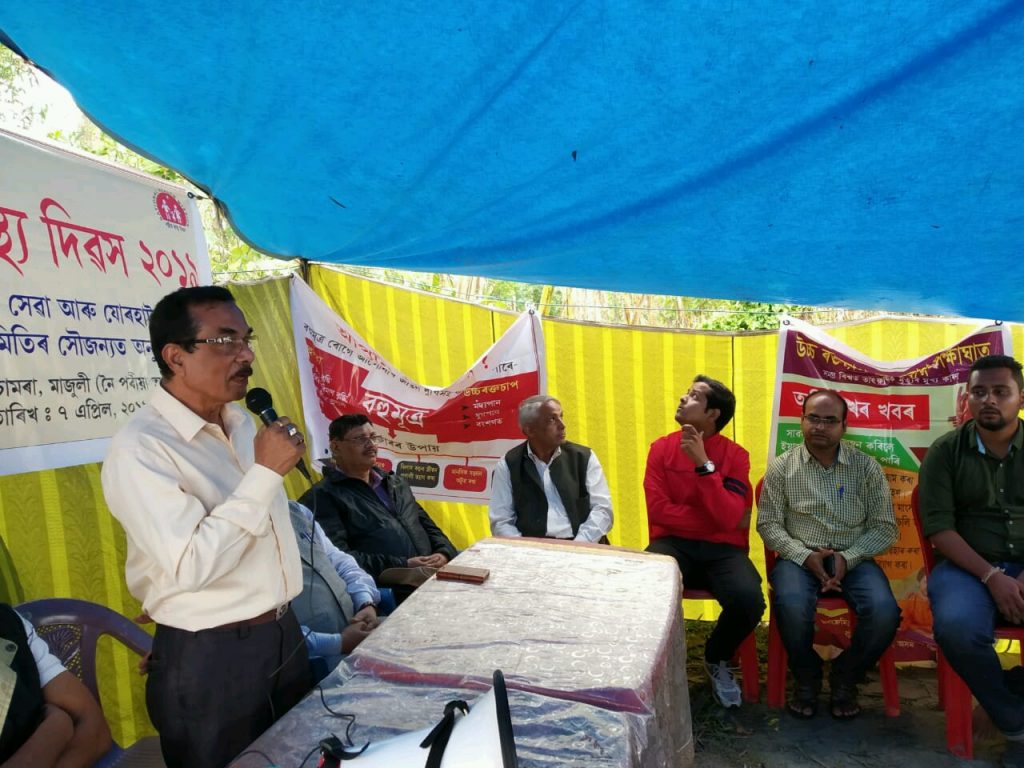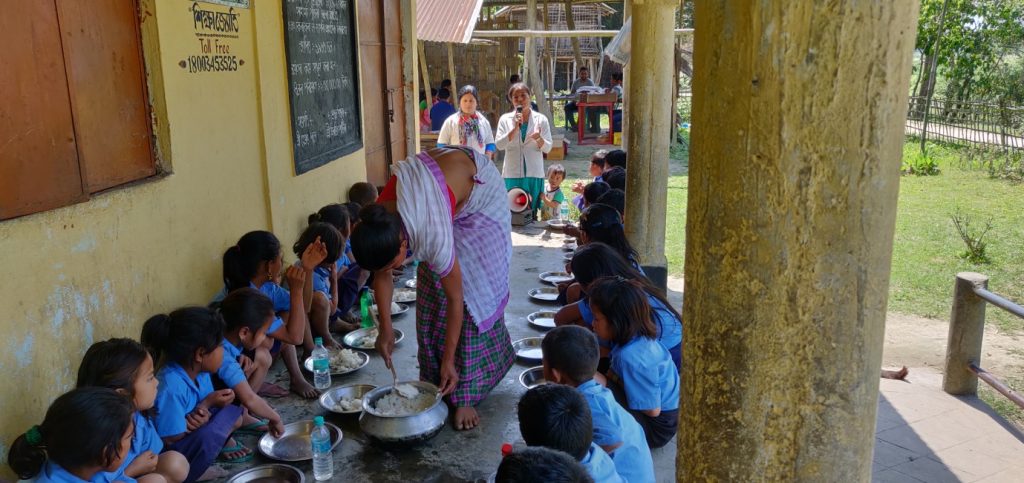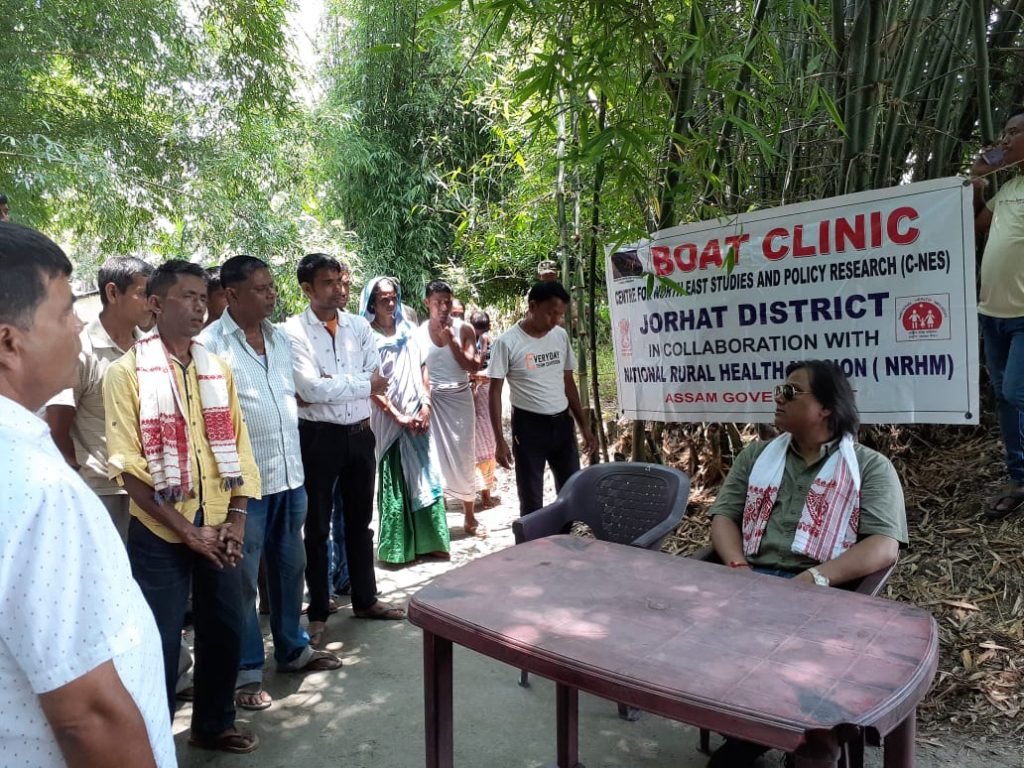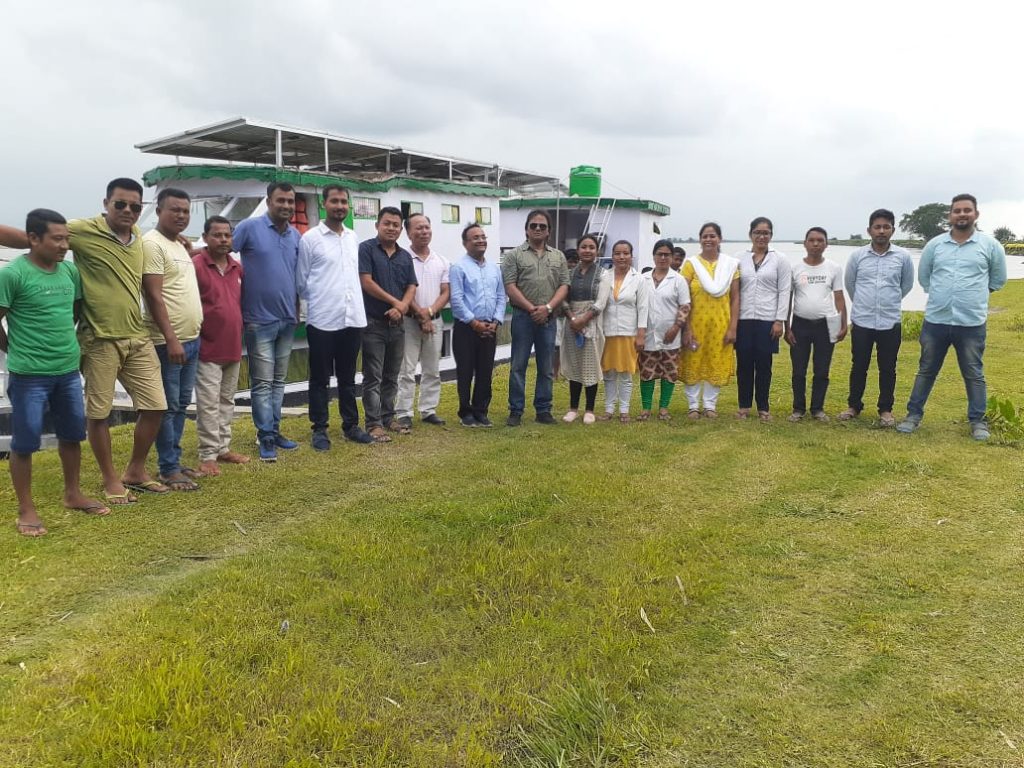 Jorhat boat SB Nahor being repaired in April 2019
---
Bongaigaon "Salt" initiative
At SALT intervened villages, community facilitators and champions have often shared successful stories and experiences which emerged during the project implementation period. Be it dream building for better health of their children through immunization or education, safe drinking water, nutrition and sanitation, it has been observed that communities effectively took steps through action plan after self-assessment. Thanks to the (SALT) process of community mobilisation, many families are using water filter, they boil water and taking steps to ensure cleanliness and sanitation. Parents are aware about the need to immunize their children.
VHAA and C-NES supported by Constellation, a registered not for profit organization are working (from February 2017) on a project titled "Impact assessment of the SALT (Stimulate, Appreciate, Learn and Transfer) approach of community engagement – a mixed methods study in Assam". C-NES had been given the responsibility to conduct the project in 30 villages of Bongaigaon district while Voluntary Health Association of Assam (VHAA) have been given Kamrup (Rural)and Udalguri districts. The SALT approach encourages people to dream, to build on their strengths and develop their own solutions to challenges. The beauty of this approach lies in its simplicity, in not setting any standards, in enabling people at self-realization and collective action.The photographs taken on 16th May 2019 show field visits undertaken by facilitators team at Bongaigaons Barjhana village (Srijangram block) and how villagers have taken many action after salt intervation
---
From Radio Brahmaputra
A Community interactive program designed and facilitated by Radio Brahmaputra on ECD (Early Childhood Development) in April 2019 covering issues from conception to age two. Mothers are seen actively participating in the program and playing games and quiz on early intervention and protection through immunization.
---
Please send your feedback, questions to Bhaswati Goswami  at bhaswatigoswami@yahoo.co.in