By the Brahmaputra (Vol: 45)
C-NES Newsletter
(For the Quarter January – March 2019)
C-NES at Arogya launch event
Programme Manager Ashok Rao and Communications Officer Bhaswati Goswami attended the launch event of Arogya, a community based intervention and control of Non-Communicable Diseases (NCD) organized by Voluntary Health Association of India (VHAI) on 12th February, 2019 at Guwahati. It needs mention that NCDs accounts for 51.2% of the total disease burden in the state. Unhealthy eating including malnutrition, high blood pressure, dietary risks, and tobacco are some of the major risk factors for NCDs in Assam. Keeping in view the growing incidence of NCDs in the state, VHAI along with LalPathlabs Foundation has initiated Arogya,a community based intervention in Assam. The programme aims at creating awareness among the general population about NCDs and its associated risk factors and also to help in early diagnosis and treatment through community based screening and proper referrals to the local government facilities.
---
Review meeting with NHM
Sanjoy Hazarika interacting with Mission Director and senior officials of NHM, Govt of Assam
Sanjoy Hazarika interacting with Mission Director and senior officials of NHM, Govt of Assam
Participants from C-NES and NHM at the review meet
District Programme Officers(DPOs) and Medicals Officers from the 15 Boat Clinic Unit with the Managing Trustee and Programme Management Unit at Guwahati's Ginger Hotel before the Review Meet with NHM on 19th January 2019
A meeting with NHM was held at the NHM Guwahati Office on 19th January 2019 to review the Boat Clinic program implemented by C-NES under PPP mode with NHM, Assam from 2008 onwards. The Managing Trustee C-NES, Sanjoy Hazarika, the Program Management Unit, DPOs and Medical Officers of 15 Boat Clinic unit were present. Dr Milan Barooah, Advisory Council Member, C-NES was also present. NHM, Govt of Assam was represented by the Mission Director, NHM, GoA Executive Director, NHM, GoA among others.
In his remarks Sanjoy Hazarika, Managing Trustee C-NES, thanked NHM for the support to the program and said that it would not have been possible to reach the unreached without the strong support extended by NHM. He informed that in order to reach the islands and serve the targeted population the Boat Clinic teams has to overcome various challenges and still the passion and dedication of the teams is never compromised. He invited the Mission Director & Executive Director to visit the Boat Clinics for further guidance and suggestions. Hazarika also suggested that in the districts the Boat Clinic should be given a chance to present their performance and work challenges before the DHS at the beginning of each financial year.
The Executive Director NHM Dr. A.C. Baishya, said he was glad that the Boat Clinics were able to reach and make themselves present among the remotest of communities residing in the islands of the Brahmaputra. Though the program started full-fledged from 2010 reaching the difficult to reach population in the 13 districts providing the basic primary health care services the program now need to look at a comprehensive health care service package which will also look not only at the numbers but also at the quality of service. As there is already the infrastructure and the manpower available on each Boat Clinic unit, NHM plan to introduce and expand the services to include the NCD component converting all 15 Boat Clinics into Health and Wellness Centres where apart from NCD screening, laboratory investigation part will include the mandatory 19 tests where possible. Dr Baishya also informed that the Boat Clinic needs to introduce the Family card system of all the targeted population where each and every individual information will be acquired and maintained.
The Mission Director, Shri J.V.N.Subramanyam while thanking Sanjoy Hazarika and the Boat Clinic team, said that the expectations of the government from the Boat Clinic program is high as through the program the government is able to reach the last man living in difficult terrain and now there is need to look at the areas for improvement and minimizing the gaps which are there so that quality of service can be improved. A power point presentation was given by Ashok Rao Program Manager, C-NES showing the beginning of the concept "AKHA", the structure of program implementation, organogram of the program supervision and monitoring under DHS, reporting component and levels, present manpower, annual micro plan, consolidated yearly activity report, performance 2018-19 till December and Laboratory investigation report.
---
Team from JICA visits C-NES
A study team from Japan's JICA visited the C-NES Guwahati office and interacted with the Programme Management Unit(PMU) members- Ashok Rao, Dr C R Hira, Manik Ch Boruah and Bhaswati Gowami on 12th March 2019 to know about the Boat Clinics. The team was led by Hironori Nakajima, Deputy General Manager, Global Project Division of ITEC( International Total Engineering Corporation), Ayako Kondo, Project Consultant, Infrastructure Development Division, PADECO and Dipankar Deka , Office Manager PADECO India, Assam. The Japan International Cooperation Agency (JICA) is a governmental agency that coordinates official development assistance for the government of Japan.
---
C-NES at SELCO Energy Conference
Riturekha Baruah representing Boat Clinic initiative at Health and Energy conference of SELCO Foundation
Riturekha Baruah representing Boat Clinic initiative at Health and Energy conference of SELCO Foundation
The District Programme Officer, Jorhat Boat Clinic, Riturekha Baruah Phukan attended the Decentralized Healthcare and Sustainable Energy conference, held on 7th and 8th December 2018, organized by SELCO Foundation at Bengaluru. SELCO Foundation seeks to inspire and implement socially, financially and environmentally inclusive solutions by improving access to sustainable energy and envisions a world where sustainable energy is a part of the approach to development and not an afterthought. To achieve this, the foundation strives to develop multiple innovative models and processes for decentralized energy solutions and replicate them. As a panelist Riturekha Baruah Phukan gave a presentation of the Boat Clinic initiative in Assam which got an overwhelming response from the participants. Energy and heath experts from across the globe attended the conference. It needs mention that the Jorhat Boat Clinic has been given solar power by SELCO as parts of its active CSR policy.
---
SALT Knowledge Fair




Community champions share their SALT experiences (top). A group photograph of the participants of the Knowledge Fair 2019(bottom)
(From left) Rituu B. Nanda from Constellation, Delhi, Ruchira Neog and Jyotika Baruah from VHAA, Phillip Forth, Founder member Constellation from UK, Bhaswati K Goswami and Ashok Rao from C-NES at an informal meet prior to the Knowledge Fair at Guwahati on 14-15th March 2019
Supported by Voluntary Health Association of Assam (VHAA) and Constellation, C-NES organized a Knowledge Fair on 14th and 15th March 2019, at Pragjyoti ITA Centre, Guwahati, Assam. Community facilitators and champions of the SALT intervened villages shared successful stories and experiences which emerged during the project implementation period. In this context it was dream building for better health of their children through immunization, along with education, safe drinking water, nutrition and sanitation and how communities took steps through action plan after self-assessment. Group discussions were held where experiences were shared with the SALT approach. SALT representatives from Himachal and Delhi were also present and shared their experiences. Phillip Forth, Founder member Constellation from UK, Rituu B. Nanda from Constellation, Delhi, Dr RM Dubey Head of Centre for SDGS,Dr Sandra Albert, Director IIPH, Shillong, Dr Ashoke Roy, Director RRC (NE), Khanapara, Mr Raju Tamang ,Ministry of Health and Family Welfare, Dr Ramnath Ballala, STM, Assam Piramal Foundation, Rashmi Rekha Bhuyan, Assistant Director, Assam Aids Control Society, Dr Purobi Saikia, District Immunization Officer, Kamrup and Bharati Goswami, District Public Health Nursing Supervisor, Kamrup were present as resource perons during the two day meet besides the C-NES and VHAA teams and the community facilitators and champions from Bongaigaon, Kamrup and Udalguri. "A brilliant concept which does not use money" was how Dr DM Dubey described the SALT approach of community mobilization.
Earlier during the week similar events were held in the Bongaigaon and Kamrup districts where champions and community representatives including health workers (ASHA/AWW) from most of the targeted villages & district health officials participated.
---
From the Field:
SB Nahor under repair
The Boat Clinics need at least one major annual set of repairs so that the safety component is not compromised. Boat repairs take long and major repairs can only be done during the dry winter months when camps are conducted with the help of smaller country boats. In February 2019, the Jorhat Boat Clinic, SB Nahor donated to C-NES by Oil India Ltd was handed over to the boat builder for the yearly repair. A country boat was hired for conducting the camp.
---
Dibrugarh
Dibrugarh's Chiriali island village has a sparse population. During winters with water subsiding it gets even more difficult to access so the boat Clinic team starts field/home visits. Glimpse from such a home visit trip on March 2019
Dhemaji
Tinsukia
Sonitpur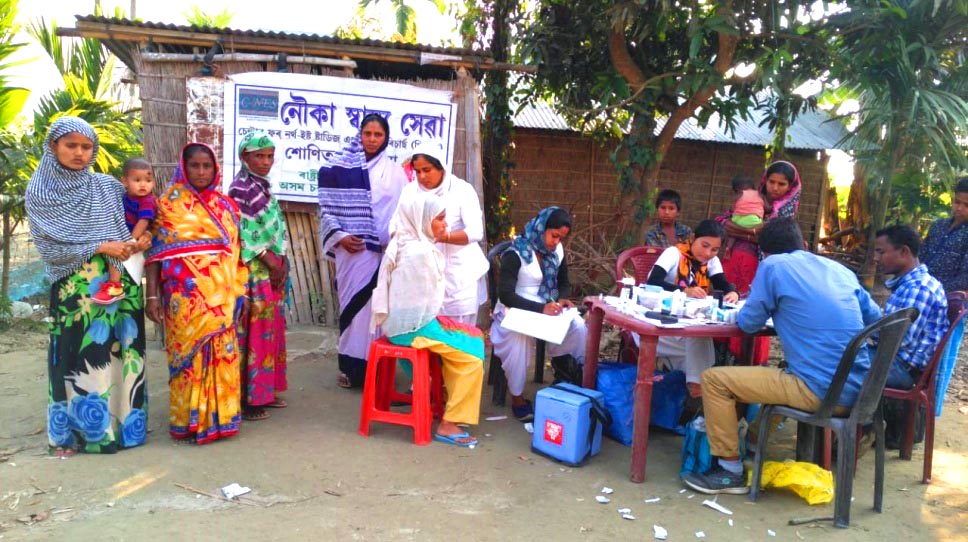 Routine Immunization, Laboratory tests and Family planning activities being carried out in the same table all at once and smoothly at Sonitpur's Rani Tapu island village by the district boat clinic team. Limited resources maximum delivery would best describe the health camps under boat clinic initiative.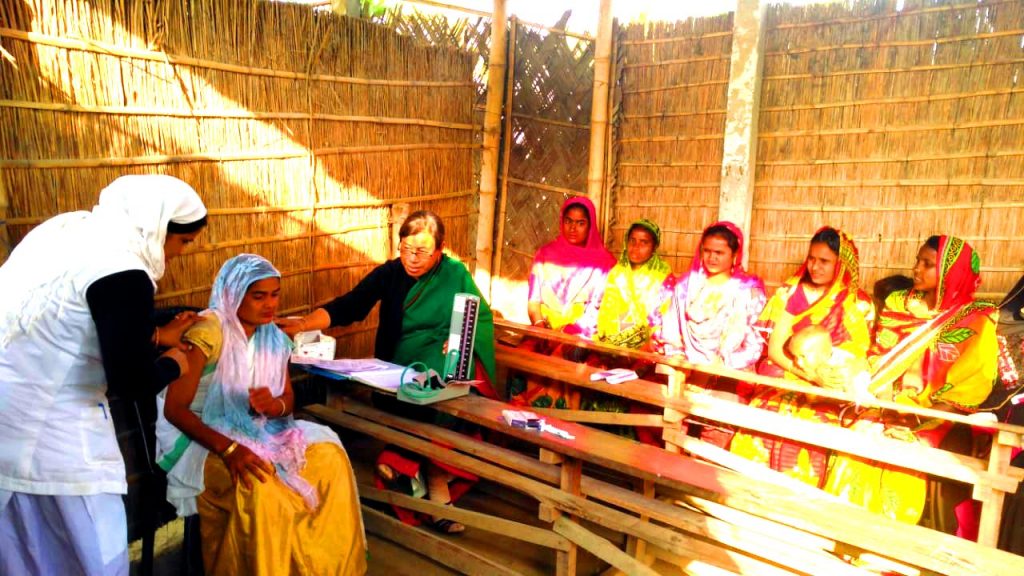 Dr (Mrs) Krishna Kemprai, Joint Director of Health Services (JDHS), Sonitpur monitoring the ongoing Antara programme as part of the family planning initiative on 30th January 2019 at Tintikia char. It needs mention that the injected beneficiary is the Aangadwadi worker herself while six other beneficiaries await their turn. Injectable Contraceptive MPA (under Antara Programme) India has strengthened family planning programmes and enhanced the basket of contraceptive choices in the public health).
The programme was a part of a visit by a 13 member team of district officials from NVBDCP (National Vector borne diseases control program) and IDSP (Integrated disease surveillance programme) lead by the JDHS to the village.
Jorhat
Bongaigaon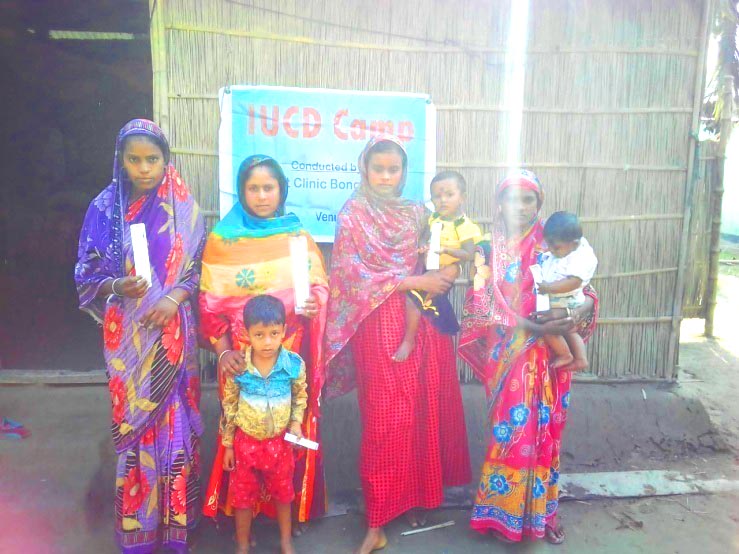 Supported by the District Health Society, an IUCD camp conducted by the Bongaigaon Boat Clinic team in December 2018.
Goalpara
The Goalpara Boat Clinic team with members of the with District Health Society on board the boat clinic journeying to the camp
A two day health camp was conducted by the Goalpara Boat Clinic in collaboration with District Health Society on 15th and 16th March 2019 at Birshing Helenga-I under Agia BPHC and Salmora under Lakhipur BPHC respectively. More than 700 patients were treated and street plays for health awareness was staged to make it appealing to the communities.
Barpeta II
Barpeta Unit II saves a new mother
In January 2019 the health team from Barpeta Unit II successfully helped a beneficiary by giving her critical post natal care. On 24th January the team was conducting a health camp at Islampur char when the village Asha informed the team about beneficiary delivering a male baby the previous evening i.e on 23rd January. The beneficiary was low on hemoglobin and the baby was a breech baby (born bottom first instead of head first).Earlier during ante natal checkups the Boat Clinic ANM and Medical officers had asked her family to go for institutional delivery and to take her to the Barpeta Medical College, but the family insisted on having her deliver at home by a midwife (locally called dhai). When the team reached the beneficiary's home the dhai informed that her health was in a critical condition but that the baby was healthy. After adequate treatment by the medical officer and ANM the new mother gradually recovered. Had the Boat Clinic team not been present the situation would have perhaps been tragic.
Nalbari
Nalbari District Health society organised a Health Mela at Nopara pam with the help of Boat Clinic on 11th January 2019 for three char villages- Nopara pam, Paptamari and Balaltari. The Health Mela was held at Nopara pam Jatiya Bidhayalaya, a 40 minute walk from the river bank. 495 patients were treated, 42 children vaccinated, 21 Ante Natal and 5 post natal checkups were done. An awareness programme on family planning with street play was conducted.
Barpeta I
Kamrup



The health team relaxing on board the Kamrup Boat Clinic on way back from the camp after a long, hectic day
Supported by the National Health Mission, the Kamrup Boat Clinic organized a special maternal health camp at Kalardia char village under Chhaygaon Block PHC on 21th February 2019. Around 500 people attended the camp and over 100 pregnant women were Registered. Antenatal checkups were conducted and counselling by nutritional and family planning counsellors for pregnant women done.
From Radio Brahmaputra
On January 9th 2019 Radio Brahmaputra was live for a programme "Early Learning Opportunity-Interpretation of ICDS". Women from Dibrugarh and Dhemaji participated in huge numbers, interacted with relevant experts and expressed their gratitude for bringing the program to their community through the platform.
Women happily playing games on pregnancy and related issues under the initiative "Early Childhood Development" for a Radio Brahmaputra community narrowcasting programme at Naharpukhuri Aangadwadi Centre under Khowang Development. Block on March 22nd 2019.