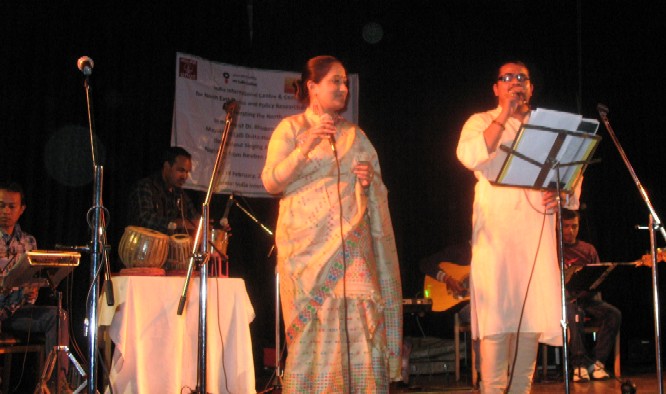 Music Beyond Borders -Celebrating Bhupen Hazarika and the Music of the North-East
A set of spell binding performances by members
of the late Dr. Bhupen Hazarika's family, the gospel-choir group, the
Nagaland Singing Ambassadors, and the father of Naga blues, Rewben
Mashangva, and his 11-year-old son Saka, from Manipur, lifted spirits
and brought the rich sounds and enchanting melodies of the North-east
to Delhi this evening.
Organized by the Centre for North East Studies and Policy Research at
the Indian International Centre, the performancesto a packed audience
began with an hour-long tribute to Dr. Hazarika by his nephew Mayukh
and his wife Laili Dutta Hazarika who brought an ensemble of musicians
from Guwahati and played some of the maestro's best known
compositions, just three months after his passing.
They were preceded by Robin Kalita, a prominent amateur singer from
Assam who holds a senior post in Indian Railways
Introducing the evening, Sanjoy Hazarika, Managing Trustee of C-NES,
which organized the event with funding from Oil India Ltd and the Oil
and Natural Gas Commission which paid for the professional fees of the
performers and their travel etc, spoke of how Dr. Hazarika's music
transcended the region and South Asia and that this was represented by
the three performing groups:
"We want this to become a sustained road, a bridge that brings people
and cultures together, improves understanding, so that rights flower
and barriers fall."
The chief guest for the evening was Dr. NM Bora, Chairman of Oil
India, while the audience included Falguni Rajkumar, former Secretary
of the North Eastern Council, Dr. Jayanta Madhab, C-NES Trustee and
RGVN Chairman,as well as diplomats, scholars, media and
representatives of international organizations.
The performance at the India International Centre had been preceded by
an open air performance the previous evening to 600 persons, mostly
youth and students, at Jamia Millia Islamia, by the Nagaland Singing
Ambassadors directed by Lipokmar Tzudir and Rewben and Saka.  That
programme was organized by CNES at Jamia which is directed by Sanjoy
Hazarika who holds the Saifuddin Kitchlew Chair at the University. The
programme was launched by Mr. Hazarika and Prof. Rashid, Pro Vice
Chancellor; the performances included dances and music from Manipur,
Sikkim and the vigorous Bihu of Assam.